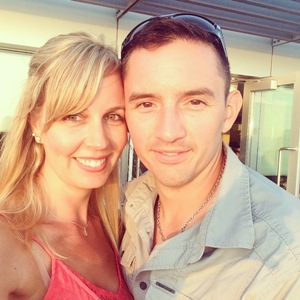 Hi, I'm Nicole Garza, Co-owner of Mally Designs Ltd. I designed and founded the original leather baby bib, Mally Bibs, back in 2005. Pictured beside me is Ron Garza, my loving Husband and business partner / the other half of Mally Designs Ltd., who has been by my side since before our business began. We fell in love and got married at the young ages of 19 and 20 years old. After 5 years of wedded bliss, our precious Son Kyler was born, and made us the proudest parents there ever could be. 26 months later, our beautiful Daughter Malia was born and our family was complete. We both had full time careers that we enjoyed, but we always knew that we wanted to do something more. We didn't know what that was, but we knew we wanted to create something great and do something we loved to do while giving us the flexibility to work around our kids schedules as much as possible throughout the years. One day, while spoon feeding Malia, I had that idea that would change our lives forever. Just as I was feeling frustrated with the look of her stained cloth bib, some of Malia's baby food had spilled onto her little leather shoe. I proceeded to wipe it off with a cloth and voila! I was amazed at how easily it had cleaned off, knowing that it would have instantly stained the cloth bib she was wearing. Just like that, the idea of leather baby bibs was born. I couldn't stop thinking about it. Ron was on board, and we knew we had an idea that would change feeding time for many parents and babies!
Fast forward to today. Our bibs have been shipped around the world through our website orders, and have graced the pages of magazines, the necks of celebrity babies and have even been chosen as a gift for the Royals! The best part of all, everything is handmade by us in our home studio in Mission, BC. We laugh, we have fun, but most of all we create products that we believe in.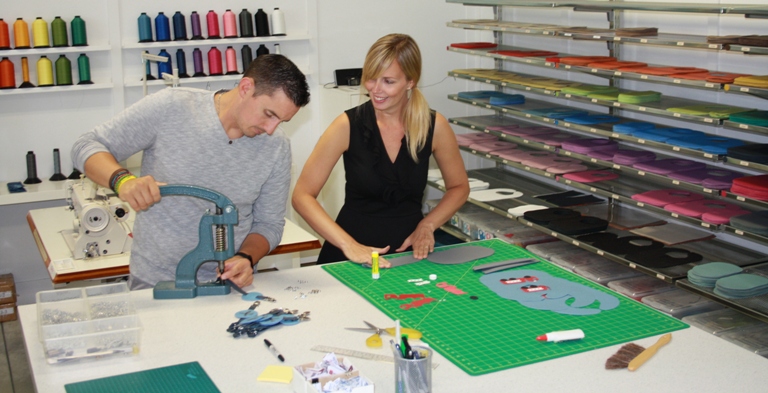 As our children have grown, so has our business. We have expanded our collection of handmade leather products to include coin and card holders, luggage tags, passport holders and art cards and our leather baby moccasins to coordinate with our popular bibs. Most recently, we started a 'side hustle' Mission Leather Supply, where you can purchase our die cut shapes, which have become quite popular for jewelry making. See our leather die cut supplies here. Making beautiful and functional items is something we are passionate about, as is spending time with our family. Creating this business has given us the gift to be able to do both.
To stay in the loop and get a little glimpse of our lives, please follow us on facebook and instagram.
Ron and Nicole, Mally Designs Ltd.