2014 Mally Designs Model Search!
Submitted by
Nicole
on August 20, 2014 - 7:53pm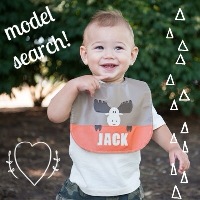 It's that time of year again! We are looking for 5-6 cutie pies to model our products for our new collection launching this fall! We are looking for babies and toddlers ages 6-24 months who are used to wearing Mally Bibs. To enter, please submit a photo of your baby or toddler wearing Mally Bibs to contests(at)mallybibs(dot)com ASAP! Our photo shoot will take place in early September at a date and location in the Fraser Valley or lower mainland, to be determined. 
In your entry email, please include:
-a recent photo of your baby or toddler wearing Mally Bibs
-your baby's name
-your baby's birthdate
-your city of residence
-any dates in September that won't work for you
Good Luck! We can't wait to see that photo entry of your little cutie!
Chosen models will get to keep a personalized bib of one of our latest designs that they wore in the photo shoot, as well as the digital files to the photos from the shoot, not to mention bragging rights as our thanks!
*photo contest winners will be contacted and announced in 1 week - on Wednesday, August 27th!