8 ways to donate to Ron's Mo Space for Movember
Submitted by
Nicole
on November 8, 2013 - 12:50pm
I know I already blogged about this whole Movember thing, but so much has happened since then. Ron's Mo Space has gone platinum (raised over $1000), we have launched our moustache items online, and a few companies have even started their own fundraising just for Ron's Mo Space! We feel pretty pumped about this. We love seeing the surprise of who donates and we check the app probably hourly, as seeing the funds grow is extremely rewarding, knowing the funds and Ron's Mo are both growing together for a good cause. As the title of this post says, there's 8 ways to donate to Ron's Mo Space as of this moment, and who knows, maybe it will grow even more!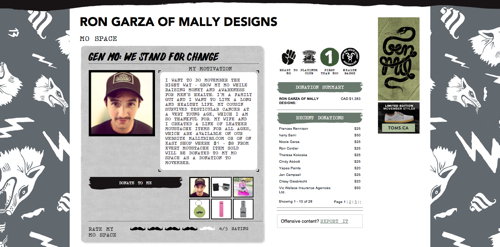 DONATION METHOD #1
Donate directly through Ron's Mo Space. You can do this online and pay by credit card or PayPal. You will get a donation receipt instantly and you can choose to donate any amount that suits you. On that note, we want you to know that we are completely thrilled with donations of $5 or $500, or anything in between or more - it doesn't matter to us, as it all helps, and we are thankful for each and every dollar! Don't feel ashamed if you think your donation is too small. No donation is too small! We all have different budgets at different times in our lives. :)
Click here to donate directly to Ron's Mo Space on behalf of yourself or as a business. If you happen to be a business that we know or that we deal with, we will do our best to thank you through our social media via any of the social media outlets we use most including facebook, twitter and instagram.
DONATION METHOD #2
Purchase any of our moustache items designed for Movember at mallybibs.com. We tally up the # of items sold through our website each week and we donate that number to Ron's Mo Space every Friday on behalf of Mally Designs. Here's our full moustache selection with direct links for ease of shopping: 
DONATION METHOD #3
Like method #2, we have the same deal going on over at our etsy shop where $1 from each moustache item sold goes to Ron's Mo Space, but with a little bit extra to choose from. At our Etsy Shop, we also have Moustache Sticks and Gift Sets. If a gift set has 8 moustache items in it, that's $8 tallied up and donated to Movember! 
GIFT SETS:
DONATION METHOD #4
Shop at westcoastbaby.com for the month of November. Amanda of Westcoast Baby has generously offered to donate 10% of their online sales from the month of November to Ron's Mo Space! Westcoast Baby is known for designing and making adorable baby and newborn clothing in delicious fabrics, such as super soft bamboo. My personal favorite is their nesting kit as it's the perfect newborn gift!

 DONATION METHOD #5
If you are in the area, sign up for one of two (or both) special Movember themed yoga classes taught by Laura and Wendy at Iron Lotus Yoga in Mission, BC on November 16th and 17th. They are sure to be lots of fun - you will even get to wear a moustache during the class. The drop in fee will be by donation and 100% will go to Ron's Mo Space!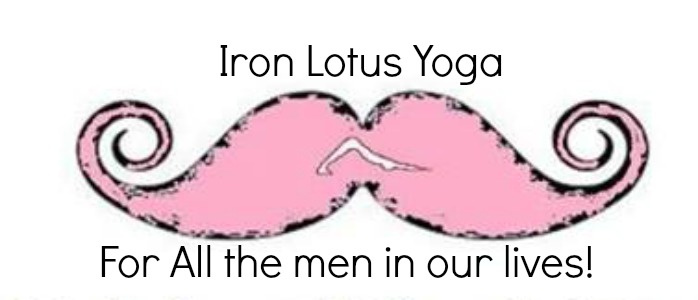 DONATION METHOD #6
Just like shopping online, shop our booth at any of our retail shows and purchase any of our moustache items shown in method #2 while they last. Just like our online sales, $1 from every moustache item sold will be tallied up and donated to Ron's Mo Space. We have 3 shows remaining: Art Market at the Telus Convention Centre in Calgary from November 14-17, Make It! at the Enjoy Centre In Edmonton from November 21-24 and at the One of a Kind Show at the Direct Energy Centre in Toronto from November 18-December 8th.    
DONATION METHOD #7
Purchase one or more super silly / super fun leather moustache sticks at our booth. They are great for kids, adults or the whole family. Think about using it as a photo booth prop or as a party favor for your next moustache themed party, or a gift for one of your favourite Mo Bros! There's no price, they are all by donation and 100% will go to Ron's Mo Space. We suggest a minimum of $2 per moustache stick for the donation, but the price of our moustache sticks are totally up to you! 
DONATION METHOD #8
Donate for FREE tickets to the One of a Kind Show in Toronto! All you have to do is donate first to Ron's Mo Space and then let us know that you would like tickets to the One of a Kind Show in Toronto and we will leave your passes at the ticket pick up kiosk near the entrance with your name on them. To make sure we see your request for tickets, it is best to put the message right in your donation messgae, something like this: 'Way to grow your Mo Ron! Please leave two tickets for 'your name' at the ticket kiosk.' Tickets are $14 at the door, but like our moustache sticks, the free tickets will be by donation, and the donation amount is up to you. We suggest a minimum of $5 per ticket.
*Once we run out of free tickets we will update this blog post by crossing out this post and updating with a message to say this donation method is no longer available. If you have already donated for tickets prior to this blog post, we have your name noted and ticket(s) your tickets will be ready for you at the ticket pick up kiosk! :)