Auction for Sweet Greta with bids starting LOW!
Submitted by
Nicole
on February 12, 2015 - 2:29pm
Sometimes we are just so touched by a story and we know we have the power to help, even if just a little. It was right before Chirstmas when we heard the news that sweet 5 year old Greta of Abbotsford BC needed help. Greta was diagnosed with Ewing's Sarcoma - a rare form of bone cancer. Her family and friends, and our entire community, have been doing all we can to help her to raise money so that she can get the help needed.
We decided to ask many of our generous good hearted friends in business to donate their beautiful items for an online auction, and many more came forward. The good news for you is that bids start at BELOW HALF retail value! The good news for Greta is that 100% of the proceeds will go to her cause, to help her give the best fight she can! It takes a village, or in this case a country, since we have companies from across the country who graciously donated and even more who will start bidding - so, THANK YOU in advance to participating in this fun auction for a great cause! 
Here's the link to Greta's online auction and a glimse at some of the items that have starting bids at less than 50% of their regular retail price: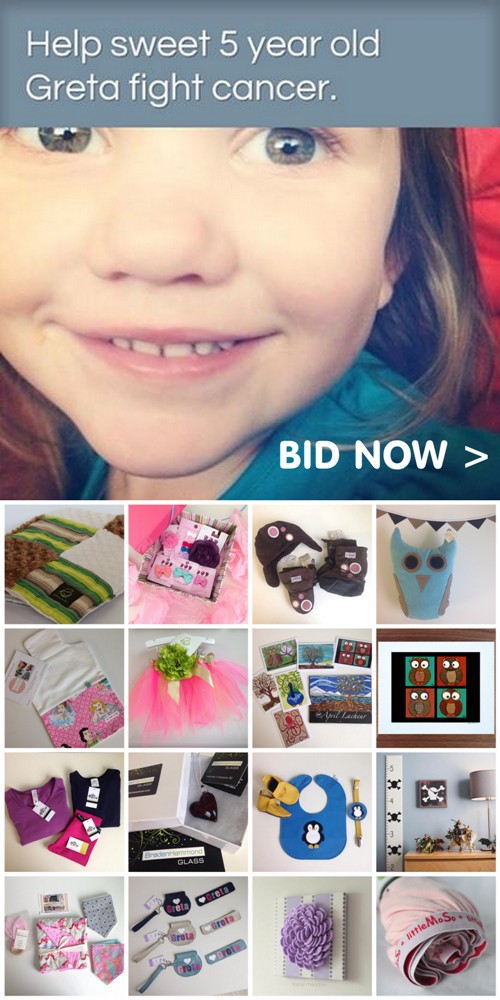 THANKS TO ALL WHO DONATED ITEMS FOR THIS AUCTION:
Baby Wisp
Bellalulu Baby
Braden Hammond Glass
Homeworks Etc. Kids
Little Moso
Mabels Labels
Mally Designs
Mamakloth
Paper Airplane
Stonzwear
Sugarplum Street
Tiptoe Meadow
Yapes Paints