Cure for cold and flu season - the best homemade chicken noodle soup in 10 easy steps!
Submitted by
Nicole
on April 3, 2015 - 3:30pm
Everyone knows that chicken noodle soup is known as one of the greatest comfort foods for cold and flu season. Every time I return from a trip it seems, I am hit with some sort of cold or flu. I'm sure it's a combination of long days, climate adjusting, not eating right while on the road, and flying home on a germ festering flight with a few hundred other people coughing and sneezing amongst circulating recycled air for 5+ hours. It's all really a bad combination. Instead of staying in bed feeling sorry for myself, I am doing everything in my power to fight this thing, because I have a life to live and kids to be present for and a business to run! Thanks to my friend Pascale for this quick and easy recipe for what is the best homemade chicken noodle soup I've had! 
Ingredients: 
1 large onion
6 cloves of garlic
3 celery stalks
5 carrots
1 red pepper
2 tbsp olive oil
1 tsp onion powder
1 tsp garlic salt
1/4 tsp pepper
6 cubes of bouillon powder
8 cups of water
2 bay leaves
1-2 pinches of cayenne pepper
1.5 cups of farfalle (bow tie) pasta
2 chicken breasts (or 4 chicken thighs)
Step 1:  sauté chopped onion onion and pressed garlic in large pot with olive oil until onions are soft
Step 2: ground 6 cubes of bouillon powder and mix with 8 cups of water
Step 3: pour bouillon water into pot and bring to a boil
Step 4: add onion powder, garlic salt, pepper, cayenne pepper and 2 bay leaves
Step 5: add 2 chicken breasts to water / onion / garlic mixture and boil for 20 minutes
Step 6: remove chicken and shred it on a cutting board, return to pot
Step 7: add chopped carrots, celery and red pepper to the pot
Step 8: simmer for 10-15 minutes
Step 9: add farfalle pasta and cook for an additional 12-15 minutes
Step 10: serve hot with soda crackers and / or garnish with fresh chopped parsley if you like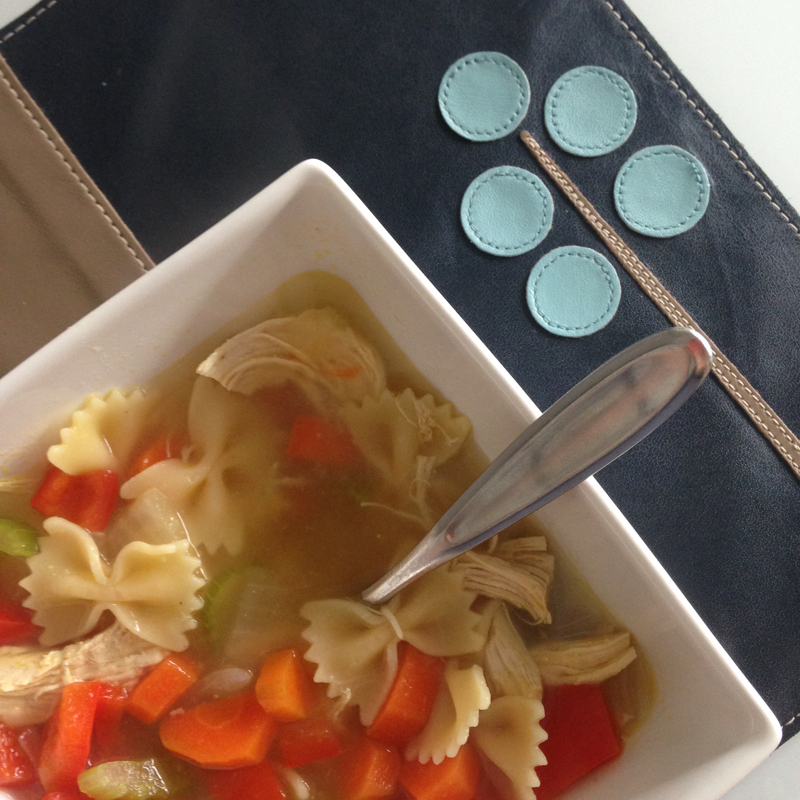 This recipe makes about 8-10 servings. It feeds our family of 4 lunch for two days. We take the leftovers and re-heat it in our mini slow cooker the next day. 
Beware, you will have garlic breath after eating this, but chances are if you're sick you are sticking around home anyhow. Enjoy!