It's our 11th Birthday Month! Check out our upcoming weekly offers for the month of June!
Submitted by
Nicole
on June 1, 2016 - 9:49am
11 years. I can't believe it. 11 years, we have been able to do what we love. 11 years of raising our two kids; running our little business that completely and solely supports our family. We are extremely thankful to be able to do what we do, and we owe it to all of our loyal customers over the past 11 years, and new ones emerging every week. We have customers who have regularly bought from us since our very first year. That kind of loyalty to a brand is so very rare, and although we have not met all of our amazing customers in person, we feel like we have been a part of each others' lives in a small form through our little family business; it's pretty special. Each June, we have a month long celebration to thank our customers. Our most popular offers and coupon codes become available for just this time. Mark your calendar, set your reminders, and plan  your purchases - these offers are only available once a year, and each weekend in June (Friday through Sunday) is the very best time of year to get your order in!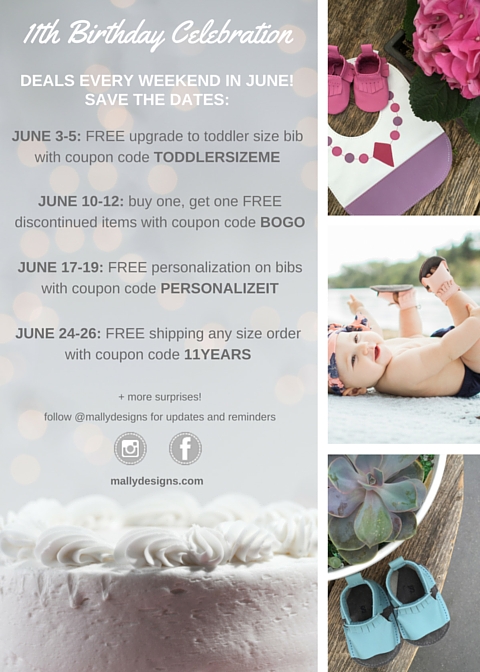 To make planning your orders a little easier, here are some tips on how to determine which offer is best for you:
June 3-5 - This offer is best for anyone wanting to upgrade their bib orders to toddler size. This is best for those ordering custom bibs, classic bibs, or solid bibs and just upgrading to toddler size. If you wish to personalize and upgrade to toddler size, it's more cost effective to wait until the free personalization weekend, as upgrading to toddler size is $10 per bib, and personalization is $15 per bib, however you will get your bib much sooner as we don't expect to be as swamped with personalized orders this weekend. You can upgrade to toddler size for free on as many bibs as you wish! Buy 5 bibs upgraded to toddler size, that's $50 savings! This offer is extremely popular. Don't forget to enter the coupon code TODDLERSIZEME
June 10-12 - This offer is great for anyone wanting to stock up on our discontinued sale items. We made the tough decision to let go of all of these great little items to focus on what we are known for, baby items. They make great teacher gifts, stocking stuffers, graduation gifts, party favors (instead of the dreaded goodie bag) - you name it. These items are already marked down, and with buy one, get one FREE we are really focusing on blowing them out. Once these items are gone, they are gone for good! There is no limit to how much you can purchase at the already discounted + BOGO price, however there is limited stock on many of these items. Don't forget to enter the coupon code BOGO
June 17-19 - This offer is ideal for anyone who wishes to personalize a classic bib, solid bib or custom bib. Add any name, nickname or word up to 10 characters and we will deduct the personalization fee of $15. There is no limit to the number of personalized bibs you can order during this time to get free personalization on each bib ordered. Please note, personalized bibs typically take up to 5-6 business days to make, but we expect this to possibly be even longer due to the volume of personalized orders expected during this weekend. You can always contact us to ask about your order status. If you need it by a certain date, we will try our very best to accommodate, but please don't email for a rush just because you're excited. Don't forget to enter the coupon code PERSONALIZEIT
June 24-26 - Free shipping sounds pretty simple, but just to explain this offer is best utilized for customers purchasing newborn mally mocs, mally mocs, and mally mocs sandals or placemats, as those items have the highest shipping prices. It's also beneficial for those just purchasing classic bibs, solid bibs, or custom bibs with no size upgrade or personalization, or soother clips. If you missed out on the other bib offers or discontinued sale items earlier in the month, or decide to get more, this is better than no offer and we don't have any plans for free shipping again in the near future, at least for the next 5 months, so this is your last chance for that! Don't forget to enter the coupon code 11YEARS