Mally Designs 2016 Fall Market Schedule
Submitted by
Nicole
on September 21, 2016 - 3:27pm
It's the last day of summer as I type this and while I look out our studio windows at the gorgeous sun shining down on the still green fully leafed trees while Sadie (our office dog) is basking in her sun filled spot by the window, I'm really going to miss it. BUT, I am also starting to get excited about Fall. As soon as we have one of those crisp fall days where you can just smell it in the air, I am going to treat myself to a pumpkin spice latte, a new pair of fall boots and maybe a new sweater to celebrate. I LOVE summer, but I also LOVE Fall. It's time to embrace the season! Part of the reason I love Fall so much is because it's when we get to travel around to all our shows and see our customers first hand! So many small business friends ask us how we do it, but I always say it's simply because we love it. Visiting these great cities and meeting the people who support our business is really satisfying to us. There's no better way to connect with our customers and get to know what they want, than to see them in person. Here's our 2016 Fall Market Schedule:
Whistler Farmer's Market, October 2nd, Upper Village, Whistler BC
Whistler Farmer's Market, October 8th, Upper Village Whistler BC
Whistler Farmer's Market, October 9th, Upper Village Whistler BC
North Shore Kids' Eco-Swap & Craft Market, North Vancouver BC
The Artisan's Market, Vancouver BC
Circle Craft, November 9th - 13th, Vancouver BC
Art Market, November 17th - 20th, Calgary AB
The one of a Kind Show & Sale - November 24th - December 4th. Toronto ON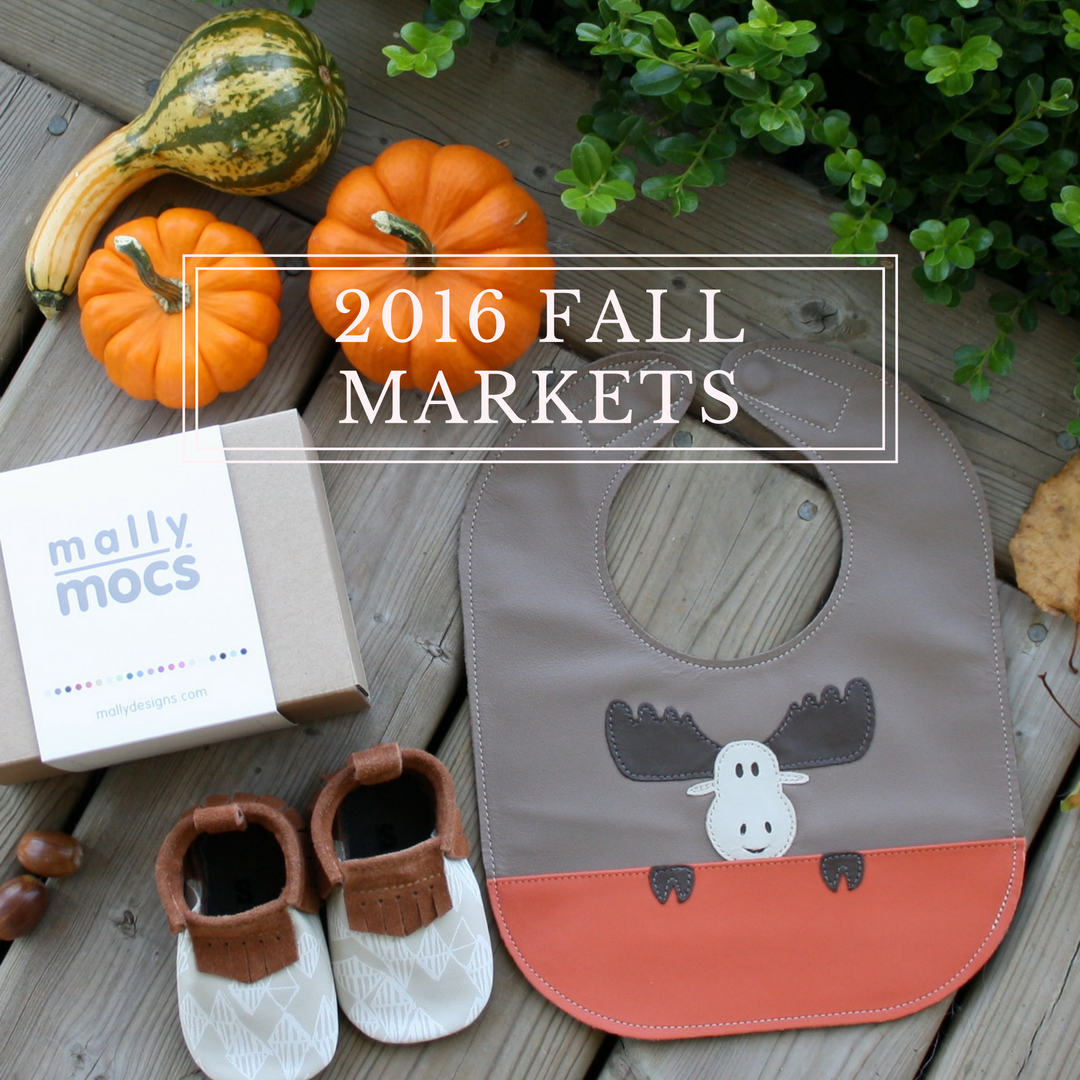 We will be sure to bring along a great selection of our popular new items, such as our new Lux Suede Mally Mocs, Mally Designs X BOOKHOU collaboration items, and our new Monochrome Collection, as well as our most popular classic Mally Bibs and Mally Mocs leather baby shoes. Be sure to visit our booth early for the best selection!
For complete details including venue locations, show hours and links to the show websites, please visit our events page. Be sure to follow us on instagram and like us on facebook for ticket giveaways and reminders. We hope to see you there!