Mally Designs 2016 Spring Shows!
Submitted by
Nicole
on March 16, 2016 - 11:50am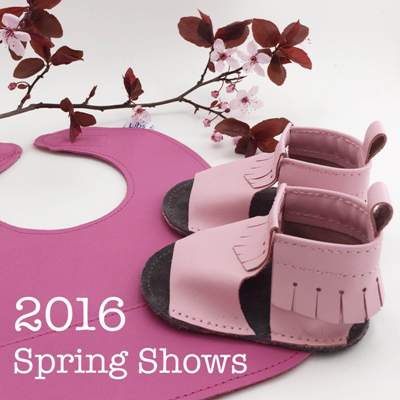 You have no idea how happy we are to be heading into Spring! The temperature is rising, the cherry blossoms are blooming here on the west coast, and perhaps best of all - sandal season is upon us! We love making our sandal moccasins, and we are busy in the studio stocking up and filling orders as I type this!
This year, we are going to be visiting 3 provinces and 4 cities in 3 months - Ontario, British Columbia and Alberta. We will be brining along our most springy colours in our moccasins, sandal moccasins and our most popular bib designs.  As always, we will also bring along a few surprises! We couldn't be more excited to see all of our lovely customers and visit some of our favourite cities. We hope to see you there, and be sure to follow us on instagram and like our facebook page for the reminders or the chance to win tickets to some of our events! Also, since we will only be bringing a limited supply to each show, pleas be sure to come early for the best selection!
Check out our full show line up below and for more details including show hours and event links, please visit our events page.
The one of a Kind Spring Show, March 23-27, Toronto, ON
Bloom Baby Market, April 2, Fort Langley, BC
Make It Edmonton, April 8-10, Saint Albert, AB
Craft Culture, April 23-24, Kelowna, BC
Bloom Market, May 7-8, Fort Langley, BC