Mally Mocs Sandals are here!
Submitted by
Nicole
on March 3, 2015 - 10:49am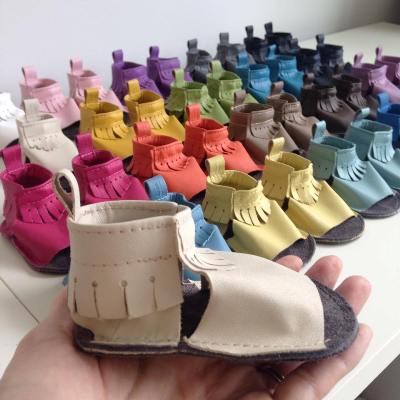 Oh my goodness, I can't even believe our luck here on the west coast! I hate to say it, because I know how the rest of the country has been in the deep freeze, but we have not even had snow here! Ahhh, who am I kidding, the rest of Canada is known to make fun of us about our 'wet coast' rain, so it's our turn! I mean, we had slush one day I think, but then it was gone! A typical Vancouver winter consists of lots of precipitation, most often of the liquid form. Thankfully we have mountains where Vancouverites know they can normally escape to in the winter because we all know when it's typically raining in the city, it's snowing in the mountains. Oh, but this year has been above seasonal with record breaking high temps, and even the mountains lack the white stuff! Not a word of a lie, I wore my flip flops every month here on the west coast of BC this year.
Being in summer shoes year round got us thinking - babies need a more breathable version of Mally Mocs! To be honest, we are huge observers, and we could see our customers actually calculating how old their unborn child would be in the summer months to avoid buying moccasins to fit them then, knowing they would be too hot. That's really what got us thinking about a sandal version of Mally Mocs. We want customers to enjoy our adorable leather baby moccassins year round, and more importantly we want babies to be comfortable in our shoes, even on those hot summer days. Hello beautiful, summery version of our fashion forward, as close to being bare foot as possible, without being barefoot mocs! Mally Mocs Sandals are now available online, in 20 gorgeous colours and 4 sizes - XS (0-6 months), S (6-12 months), M (12-18 months), and L (18-24 months). 
Features of Mally Mocs Sandals:
made with 100% genuine baby safe leather (CPSIA safety tested and approved)
leather pull tabs at the heel for ease of putting on and taking off
non-slip triple thick suede sole
charcoal grey sole, designed to mask dirt
embossed with mally mocs and mally designs branding
mally mocs signature fringe detailing with little holes at the top
hidden elastic for a clean, modern look
sewn with heavy duty nylon thread in matching thread colors
designed to coordinate with mally bibs and mally soother clips
available in 3 sizes, suited for baby and toddlers
oppenings at toe, heel and sides to offer breathability