Meet our new product... designed by a Man!
Submitted by
Nicole
on September 23, 2011 - 12:54pm
Since those early days of business, back in 2005, when I came up with the idea for leather baby bibs it's been me who has designed our new products. I'm one of those people who can't stop designing and creating. I'm constantly being inspired and if I have an idea, I have to get out my sketch pad and pencil and start drawing. I usually can't get it off my mind until I start cutting and playing with color combinations. It's just who I am! In fact, my husband jokes that he dreads these 5 words I so often say to him: 'Babe, I have an idea'. Don't get me wrong, my husband always gives valuable input and suggestions, which I really do appreciate, but he never got as excited as I did, until recently. I think after working side by side with my husband / business partner for a number of years now, that creative side is starting to rub off on him as well! About a year ago he complained to me about how tired he was of having such a bulky wallet full of cards, half of which he never uses. He told me he was going to design something out of our leather to solve that problem. I saw it happen to him - he couldn't get it off his mind! He was ME! He started drawing, showing me, cutting, gluing, playing... he was desiging! I acted like it was no big deal, but really I was so proud, and equally excited. I knew he had something. He made up his first few prototypes and gave them to a few friends. They were a hit! Mind you, these were friends, and perhaps biased opinions, so I suggested he make a bunch up to test sell at our upcoming retail shows. Again, as excited as I get about things like this, he did, AND they sold! Now that was the first few prototypes and they were solid brown and solid black, with no D-ring on the side. He will say I added the two-tone colors and D-ring to make the idea 'mine' but I'm giving him FULL credit here! I added those details because I wanted them to also appeal to women. We had quite the argument about adding the D-ring on the more masculine colors. My argument was if a guy doesn't want it, he can just simply cut it off, no big deal! He wasn't budging until one day, at one of our retail shows, a guy came up and asked 'Can I get this solid black card holder with a D-ring on it?'. I laughed and told my husband I won that argument. It's easier to cut it off then sew one on!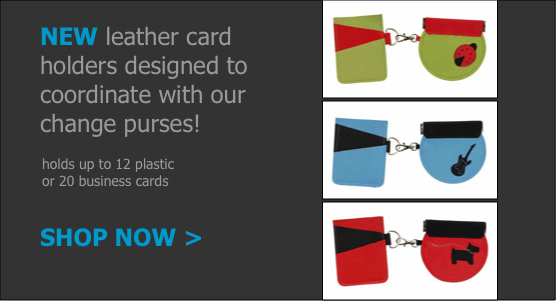 Now our new and simple, yet awesome / designed by a man card holders are available for order at mallybibs.com here! The best part is we designed them to coordinate with our change purses (another reason the D-ring is significant, I might add, to attach to the change purses). I have two card holders in my purse right now, one for my plastic cards, and one for my business cards. My husband, of course, has the solid black, with no D-ring. ;)