New Mally Bibs Collection Photo Shoot Model Search!
Submitted by
Nicole
on July 22, 2013 - 1:20pm
Do you have a cutest baby or toddler in your life? Of course you do! Do you love Mally Bibs and want the opportunity to have said cutest baby or toddler model Mally Bibs and be one of the faces of Mally Bibs?! Of course you do! Do you live in or around the Fraser Valley / Vancouver, BC area?!! Okay, maybe not... but if you do, we have an exciting opportunity for you!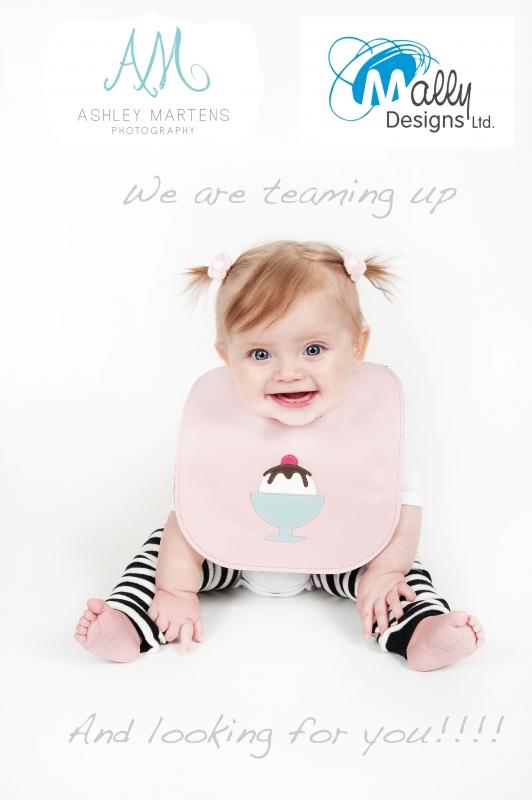 We are teaming up with our favourite local photographer, Ashley of Ashley Martens Photography and we are planning an amazing 1 day photo shoot around the 2nd or 3rd week of August where we will be sure to capture the most amazing photos of the new Mally Bibs collection in action. Follow Ashley Martens Photography on facebook to see her photography style and some of her recent photo shoots.
How do I enter my baby or toddler for this opportunity? 
1) Submit a recent photo (takend within the last month) of your 5 month - 3 year old baby or toddler wearing his or her current Mally Bib to contests(at)mallybibs(dot)com. The reason we ask for a photo of potential models wearing Mally Bibs is for two reasons - one to get an idea of size of the child - and two, to make sure they are used to wearing Mally Bibs. Even though Mally Bibs are very comfortable, it's never a good idea to put something brand new on a baby for the first time in front of camera if you want to capture a good shot of a happy baby, as it may take them awhile to get used to the new feeling of wearing them. If you have ever put a baby on grass for the first time and have seen a reaction, you know what I'm talking about.
If you do not currently own Mally Bibs, you may purchase one here - shipping within the local area generally only takes 1-3 business days. 
2) In the email, please include your baby's name, birthdate, and why you think he or she would make a great Mally Bibs model. Please also let us know of any dates between August 12th and 30th in which you will not be available.
Please consider if you truly think your child will be comfortable with this. If your baby doesn't like the camera, is unconfortable around strangers, or is currently going through the usually short-lived 'bib pulling off' stage, then we ask that you not consider this at this time. We want awesome photos! :)
Some questions you may have:
What sort of perks do I get if chosen?
1) Your child will be provided with at least 1 outfit and possibly some accessories by Mally Designs to wear in the shoot, which will be yours to keep!
2) Your child may model several Mally Bibs. One of them will be personalized with your child's name on it, which they will get to keep!
3) You will have the option to purchase the additional bibs modeled at 50% off for keepsakes or gifts. 
4) You will be given a 1 year 'models only' exclusive coupon code with a discount for use at mallybibs.com 
5) You will get to have access to the digital files from Ashley Martens Photography of the photos taken at the shoot, which you are free to use as you wish.
6) A $75 GC for your next session with Ashley Martens.
7) Bragging rights! Not every baby can say they had a modeling career. ;)
What will I or my child have to do? 
1) All your child will have to do is be himself or herself, enjoying a little snack, sitting, playing, walking, whatever he or she would do naturally on location.
2) You will be asked to sign a model release waiver, saying that you give Mally Designs Ltd. and Ashley Martens Photogrpahy permssion to use the photos.
3) You will have to be present and possibly aid in keeping your baby or toddler happy during the shoot. Bring the essentials and be ready to make your little one smile!
4) You may be asked to be in some of the photos as well, but this is totally up to you if asked! 
5) Be on time on location, which will likely be somewhere in the Fraser Valley. Details will be provided shortly after models are chosen.
*Chosen models are expected to be notified and announced during the first week of August, on our around Tuesday August 6th! Deadline to submit a photo is Friday, August 2nd. We apologize in advance, as we will only be contacting those chosen to model.