Noodle Salad with a Peanut Satay - no need to hide the veggies!
Submitted by
Nicole
on January 27, 2016 - 2:55pm
I have never been one to hide veggies in my meals as I have always felt it was important to teach my kids to love vegetables and to understand the nutritional value behind them. As well, we often discuss the importance of choosing organic, non-GMO, and local whenever possible. They get it. Aside from tomatoes, my Son loves and eats all fruit and veggies, and aside from spicy jalapeño peppers and such, my daughter does as well. Mission accomplished. :)
Over the years, we have definitely nailed down some staples (and through experimentation, many mistakes!) that we have kept to rotate through our family meals. Each week I'm going to try and share one of our favourites here, along with a few tips. My hope is that it will be a resource for other families to prepare healthy, wholesome and delicious meals made (mostly) from scratch that are super easy as well! Now, I'm not a chef, so when I suggest Itallian noodles for a Thai recipe, I know that's 'wrong', but frankly I don't care. This is about making good, easy, healthy family meals, not about following the rules. ;)
This recipe will make enough for a family of 4. We often double it to make enough for lunch the next day.
RECIPE: Vegetarian Noodle Salad with Peanut Satay (not suitable for those with peanut allergies, obviously)
Serves: 4
Prep / Cook Time: 45 mins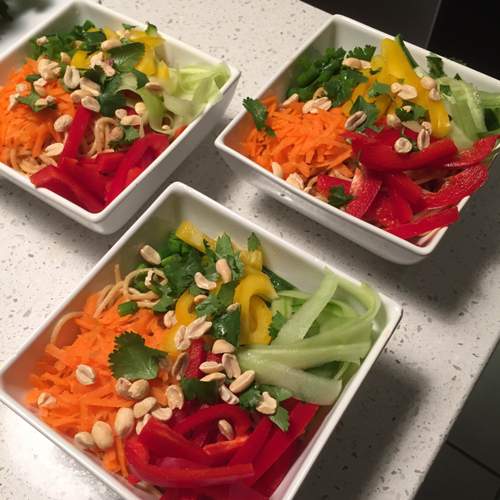 INGREDIENTS:
noodles, either:
ramen (Costco offers a great gluten free ramen option)
rice noodles (found in asian section of any grocery store)
OR
regular or whole wheat spaghetti or any other pasta noodles will do. I used spaghetti noodles for this one.
sauce:
1/2 cup 100% natural peanut butter < ingredients should just be 'peanuts' - don't get me started about what's in other kinds!
1/4 cup soy sauce
1/4 cup rice vinegar
1/4 cup cold water
1 tablespoon fresh ground ginger
3-4 cloves fresh pressed garlic
1-2 tablespoons sriracha (depending how spicy you want it)
1-2 tablesppon sesame oil
2 tablespoons of brown sugar
veggies:
1/2 red pepper, thinly sliced
1/2 yellow pepper, thinly sliced
3 medium shredded carrots
1/2 thinly sliced cucumbers
1/4 cup green onions
optional toppings:
cilantro
roasted, unsalted peanuts
fresh squeezed lime
extra sriracha
*This is also great with chicken or tofu if you want to add some protein
Directions
Noodles - Cook noodles according to the package. Rinse with cold water, lightly drain and toss with a tablespoon of seasame oil so it doesn't get sticky. Set aside in strainer and allow it to fully drain.
Sauce - Whisk all ingredients and toss half with the noodles and refrigerate
Toppings - Slice up all the veggies as suggested, or how you like, while noodles are chilling.
Assembly - Divide the noodles amongst individual bowl sized servings. Add veggies in sections on top. Ganish with any or all optional toppings. Serve with a side of sauce for each person to add desired amount to the top.
Enjoy! Our whole family loves this recipe, and I hope yours will too!