Our Process: Personalized Bibs, hand crafted with love and care every step of the way.
Submitted by
Nicole
on June 10, 2013 - 12:03pm
We love making personalized and bibs. It's always fun to see all the different baby names, and funny or quirky nicknames that are ordered and in case you haven't seen our personalized bibs up close or in person, we want you to know that we don't simply embroider the names on with a computerized machine. Embroidery can be a beautiful addition to some products, but we also need our bibs to be easy to clean and stain resistant. We actually cut each and every letter out of our scrap leather, with our custom alphabet die cutters one by one using our heavy duty hydraulic leather cutting machine, commonly known as a clicker:
Custom alphabet die cutters used for Mally Designs products: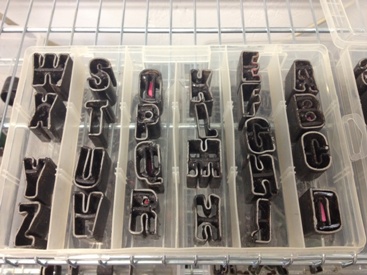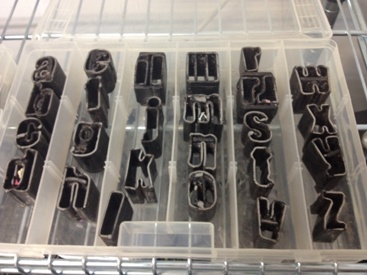 Clicker cutting of leather used for Mally Bibs personalized bibs and other Mally Designs products and applique: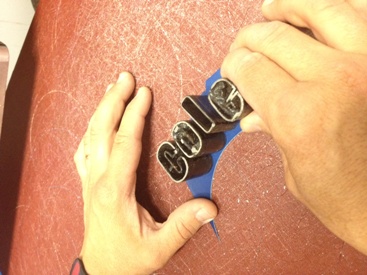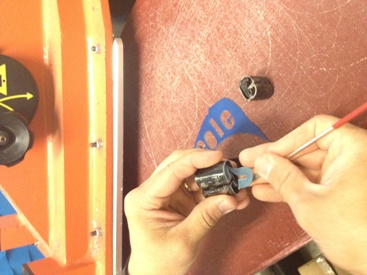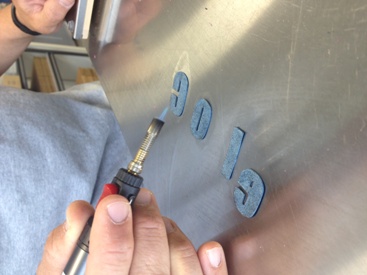 Next we carefully take each letter and examine it to ensure it was cut fairly clean and smooth and to double check and ensure there are no imperfections in the leather such as holes or other flaws. Each and every letter and part of the design applique is handled by us. Quality of each piece is something we take very seriously.
Here's a little secret, a trick of the trade if you will. Once we are sure all the letters are top notch, we turn them upside down and torch them with a small butane torch to 'de-fuzz' the edges. This might not get all the leather fuzz off, but it will get the majority off. This is also something we do with all of our design applique to make sure it has a nice clean, crisp edge. This does add time to our production process of course, but we feel it makes a big difference in the look of the final product.
Once all the letters are ready, we apply each one by hand onto the pocket of the bib, or elsewhere if the customer has chosen to do something else by custom request. We also do this very carefully, using a straight edge and measuring to ensure the name or word is centered on the pocket as best we can. We can fit up to 10 letters on the pocket of our bibs. For names longer than 10 letters, we have been able to manage to get some of the pocket of the toddler size only, depending on the name. Tip: if you wish to order a bib with a name that is more than 10 characters, just send us an email and we can let you know if we can accomodate.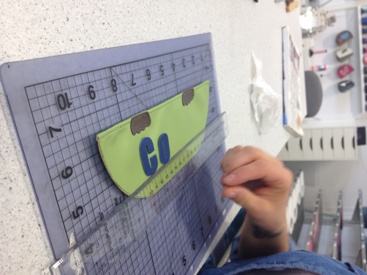 Next, it's time for our skilled custom bib seamstress to start stitching the name on the bib. For all our sewing, we use a heavy duty nylon thread that won't rott or stain in colors to match the leather we use. Each letter is stitched on by hand with one of our industrial sewing machines. If a stitching error is made, we start the process over to make sure it is just right. This is rare though, as our custom bib seamstress is very good. :)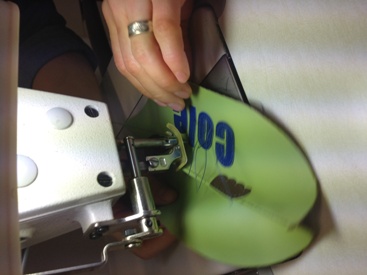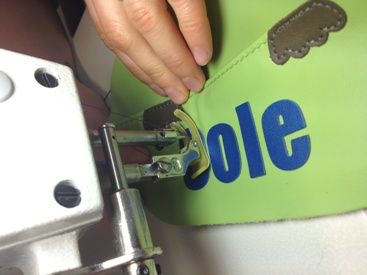 Lastly the pocket is applied to the bib and the final sewing is done around the perimeter of the bib. I hope this post shows how we really take care in every step, as we know our bibs are expesnsive, especially when they are personalized. We want nothing more than for our customers and gift recipients to open their new Mally Designs items in the mail and be thrilled with what they see. We actually hope that it's better than they imagined it would be. 
Finally, the finished product is trimmed of any leather overlap and excess threads are trimmed. The perimeter of the bib is also lightly  torched so that it can be 'de-fuzzed' around the edges if needed. After that part is complete, it's time to package it up and send it to a happy recipient! 
FUN FACTS: 
*the most popular bib designs for personalizing are: #1 giraffe, #2 puppy, #3 butterfly, #4 dragonfly, #5 bunny
*Celebrities Moms who have our personalized bibs for their children include: Niki Taylor, Sandra Bullock, Jennifer Garner, Jenna Elfman and Trista Sutter, to name a few
*Of the above celebrity Moms, Jenna Elfman claims it was the best baby gift she received!
*Some of the more unique requests for personalization include: 'Mushroom', Baby Bird, I'm with the band, J-Bone Jr., Sundance, Baby 2, Child 002 (on a robot bib), Pandaddy (on a panda bib), Cupcake (on a cupcake bib), and Arrrr (on the pirate bib)
*Customers have the option to choose their name to be stitched in upper case, lower case, or a combination. They also have the option to choose their name color
*Our custom bib seamstress much prefers to sew upper case. :)
*Besides first names, some people have ordered to have the baby's last name or family name so that it can be passed down or ordered before the name is known
*We can also add a birthdate on the bib by special request.