Our soft sole leather baby moccasins - Mally Mocs
Submitted by
Nicole
on November 4, 2014 - 8:06pm
It brings me great pleasure to introduce you to the latest product in the Mally Designs family, our sweet and adorable leather baby moccasins - soon to be commonly known as Mally Mocs. 
Definition of moccasin:
Google: A soft leather slipper or shoe, strictly one without a separate heel, having the sole turned up on all sides and sewn to the upper in a simple gathered seam, in a style originating among North American Indians.
Wikipedia: A moccasin is a shoes made of soft leather, consisting of a sole and sides made of one piece of leather, stitched together at the top, and sometimes with an additional panel of leather. The sole is soft and flexible and the upper part often is adorned with embroidery or beading and / or a fringe.
The reason I included definitions of moccasin in this post, is I believe in recognizing the origin of the beautiful shoes. They have been made for hundreds of years, and as a company who believes in modern design and function, we have simply taken a traditional idea and modernized it with our own design details, maintaining some of the old charm, and altering it for use by babies and toddlers, as that is our market niche. We are thankful for the original moccasins of the world. They have inspired us.
Project Mally Mocs:
We have been working on project Mally Mocs along with our studio assistants for quite some time now. It has been a top secret project, and one that we have poured our hearts and souls into. Over the past 9+ years since we started Mally Designs, we have had a constant request to make soft sole baby shoes or baby moccasins to match Mally Bibs. We always felt that there were so many great options on the market that we didn't feel there was a need, but our wonderful customers kept telling us that that they knew we could create something very special. We have always had a main goal through the years, and that is pleasing our customers and one day, it hit us. If our customers want us to design soft sole baby shoes, then we need to design soft sole baby shoes. When we started designing our baby shoes we thought about what customers would want the most and we decided that a baby moccasin style was most on trend. That cute little fringe is hard to pass up and in our beautiful leather colors, we knew they would be a hit. When we started sketching what our shoes would look like, we wanted something different, unlike other baby mocs. We wanted a modern moccasin, a cute moccasin, and a stylish moccasin with very thoughtful details in regards to all aspects of function, style and safety. As far as style and aesthetics, there's a few things that make our mocs special. At the top of each fringe you will see a cute little detail of a hole. This was something that we thought added a special little touch, a signature Mally Designs detail that nobody else does. Next, we really didn't like the look of other soft sole shoes and baby moccasins on the market when you could see the elastic peeking out on the side, so we designed them in such a way that the elastic would be hidden. We also have never been a fan of baby mocs with white or black thread contrasting with the leather color. Just like our bibs, we wanted our mocs to have matching thread colors to the shoes. It's a little extra step in the process to change the thread, but honestly, what a difference it makes! They look more modern, stylish and high end. When it comes to comfort, fit and function, we invited 8 Moms, a Grandmother and an Aunt and their combined 8 babies and toddlers to a top secret testing event when we were in the prototype stage of product development. At this event we unveiled some of our first prototypes of our mocs and had them try them on, give feedback and help us perfect them even more! We asked questions like:
Which mocs sizes fits your child best in the length, width, and ankle?
What do you like / dislike about the style of the mocs?
Do you think the mocs will stay well on baby's feet?
Are the mocs easy to put on your baby's feet?
Does your child seem comfortable in the mocs?
Do you like the color and material of the mocs?
What colors would you like to see our baby mocs made in?
This is just a few of the questions we asked and from these responses, we perfected Mally Mocs even further. I can't even begin to explain how thankful we are to have held this little event at our studio. I have to say, each and every Mom tester at the event was a part in designing our baby mocs and we owe them some credits for their most valuable input based on our first prototypes. Here is some of the feedback we got that day:
1) We needed to make our ankles a little tighter for teeny babies (Mom Tester credit: Arianne)
2) To add a tab at the back to make them easier to slip on the chubby feet (Mom Tester credit: Allison)
3) To make them in nice bright colors to coordinate with various outfits (Mom Tester Credit: Angela)
4) That they should have a nice wide toe box to suit narrow or wide feet (Mom Tester credit: Tara)
5) Keep a non slip / dark sole on them like the prototype to mask dirt (Mom Tester credit: Robyn)
6) To make them easier to put on baby's feet (Mom Tester credit: Krista)
7) A higher ankle would be a nice feature (Mom Tester credit: Tatjana)
8) Make them a bit tighter in the ankle with a stretchy elastic for various feet sizes (Mom Tester credit: Jenn)
We took those and more responses and solved the problem areas by making the ankle tighter with a stretchier elastic. We added the tab at the back to make them easier to put on and we kept the beautiful suede dark soles on them. We also chose 16 beautiful and popular Mally Designs leather colors to start our Mally Mocs collection off with. We made more prototypes since our testing party and perfected them into 5 sizes ranging from XS (0-6 months) to XL (24-30 months).
Mally Mocs reveal, plus the smart Moms and their adorable babes testing out the first Mally Mocs baby moccasin prototypes at the Mally Designs studio in Mission BC: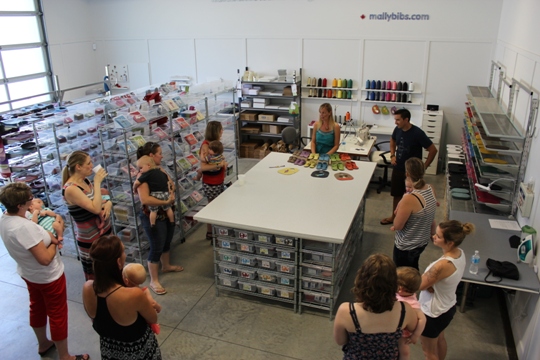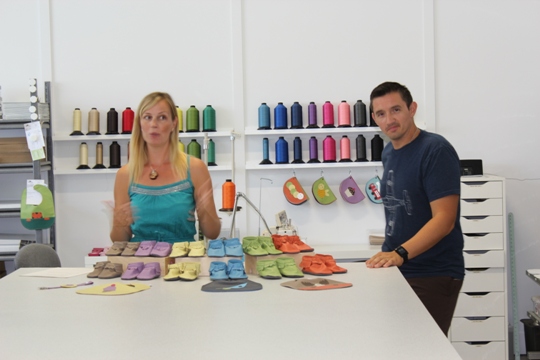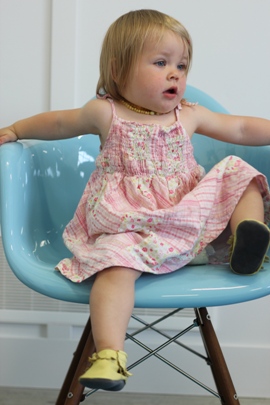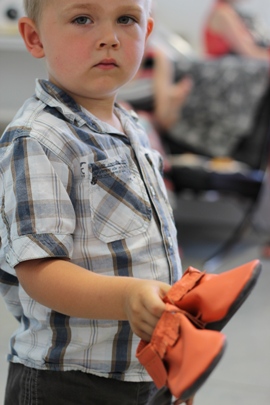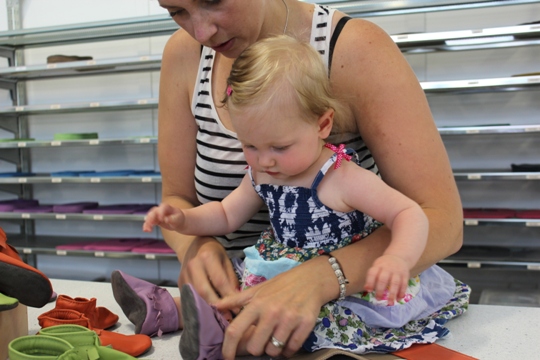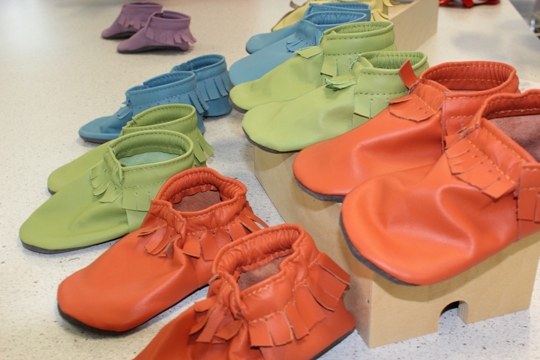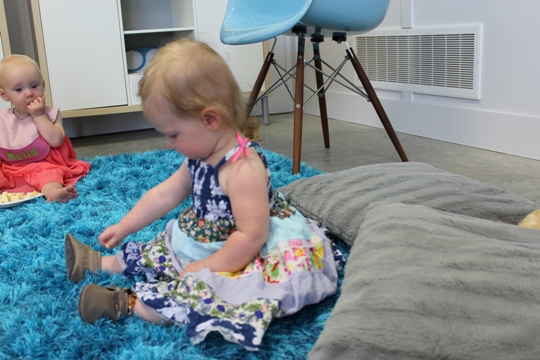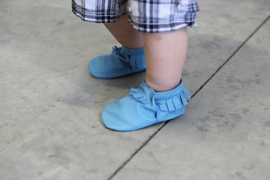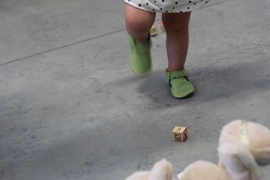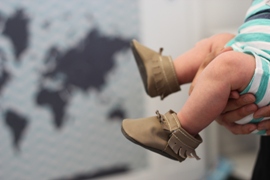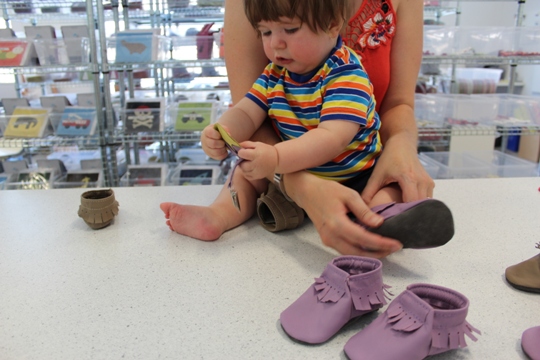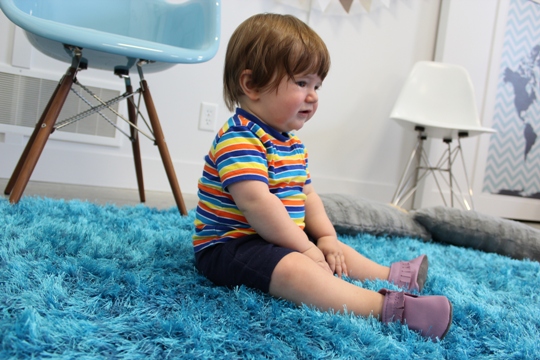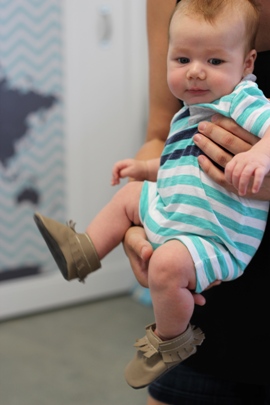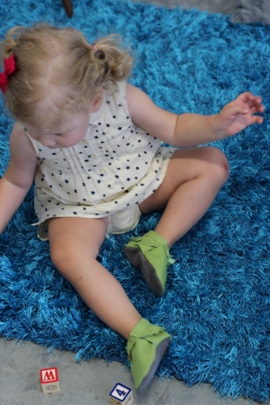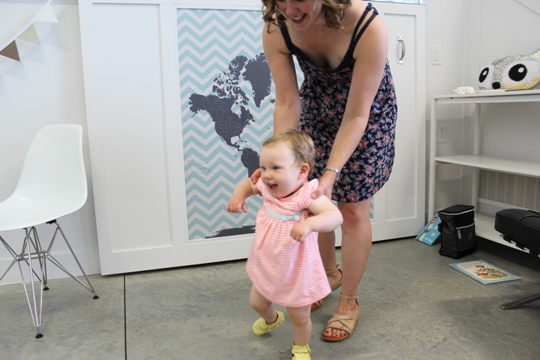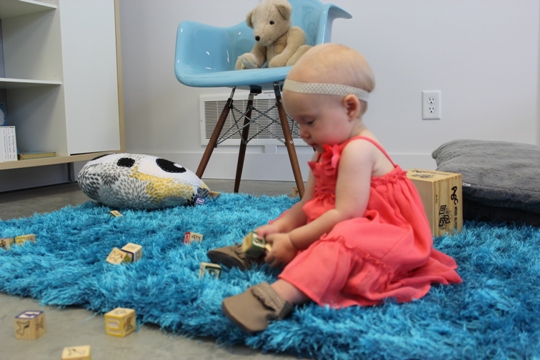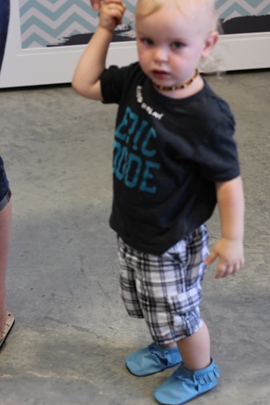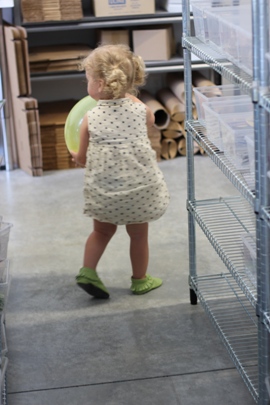 It was a fun event, and one that we are so very thankful we had. It was crucial in perfecting our mocs. Despite the fact that it was one of the hottest summer days of the year, the babies and toddlers seemed comfortable and happy trying on our first moccasin prototypes. The event was a success!
Most importantly, we take safety very seriously. As always, all of our leather is CPSIA safety tested and approved for babies and again, our suede soles are non-slip for early walkers and toddlers to cruise around in safely on otherwise slippery surfaces.
I can honestly say, we made about 14 prototypes before we knew our shoes were just right. It took a lot of time, patience and calculating for the various sizes, but we couldn't be happier with the end results. When you purchase Mally Mocs, they also come in a beautiful little gift box which contains your pair of sweet baby moccasins wrapped in tissue paper and a card showing their lovely features.
Here's a comparison of the very first pair we ever made on the left, and the official design on Mally Mocs leather baby moccasins, both in our Iceberg Mally Mocs on the right: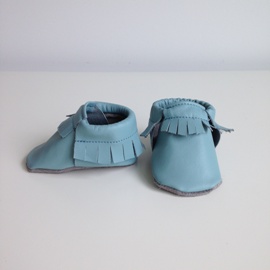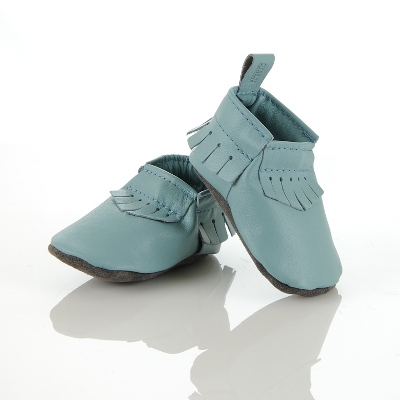 Introducing Mally mocs to the public at Studio Fair in Prince George:
Shortly after we launched our baby moccasins online, we were scheduled to attend our first holiday retail show of the year, Studio Fair in Prince George. It gave us the perfect opportunity to see first hand what customers had to say about our new baby moccasins. What stood out most to me was seeing how easily they slipped on little fit with that awesome little pull tab at the back, and how amazed customers were at how well they stayed on! Every comment we heard was nothing but positive and we felt like our mission was accomplished. Here's just a few comments we heard:
"I just love how they are not too stiff like other baby mocs on the market!" -Retail Shop Owner
"I love these moccasins. I got a traditional pair from my tribe, but it's nice to get a modern pair of baby mocs as well" -Aboriginal Customer 
"I love them and they stay on so great! I'm so happy I got a pair for my girl!" -Teresa, Studio Fair Customer
There were dozens more comments on how cute they were, requests for adult sizes, and people oohing and awing over the colours, but it was those 3 comments that stood out to me as mission accomplished. Our baby mocs are all that we dreamed they would be and more. We know they will be loved by many just like our bibs have been for almost 10 years now. 
Where can you get a pair of Mally Mocs leather baby moccasins?
1) Mally Mocs are available for purchase online now. To shop go to Mally Mocs leather baby moccasins page. We ship within 1-2 business days!
2) Mally Mocs will be available at our two upcoming retail shows. Find our moccasins at The one of a Kind Show in Toronto, as well as at Art Market in Calgary.
3) Mally Mocs will be available for wholesale starting in January. If you are a retailer wanting to carry Mally Mocs in your shop, please add your store to our wait list by emailing us, and you will be notified when we are ready to take orders for them.