Ron becomes a Mo Bro for Movember - introducing his page and our line of Movember Moustache items and gift sets!
Submitted by
Nicole
on October 16, 2013 - 7:56pm
We love November Movember. Here's the three main reasons we we love this month:
It's the one month of the year that we get to travel far and wide to various beautiful cities around the country to sell our hand crafted leather goods. This year you can find us at Studio Fair in Prince George, Art Market in Calgary, Make It! in Edmonton and the One of a Kind Show in Toronto, ALL in the month of November! 
It's the month of the year that our online sales are consistently the highest each and every year. Since our products make great gifts for people of all ages and our gift services kind of rock, we always have a crazy busy month as Christmas and gift orders are rolling in like no other month! 
It's MOVEMBER! In case you havn't heard, it's the month of the year, formerly known as November (not really, but kind of) where men grow their Mo (slang for moustache) in support of men's health! Ron, my awesome husband and business partner has officially become a Mo Bro and he is counting down the days until he doesn't have to shave anymore. I'm making sure to enjoy his smooth face in the meantime.
You may be wondering - What is Movember exactly?
Specifically, Movember is a charity that raises money for various types of Men's cancer including testicular cancer and prostate cancer, as well as men's mental health. Originating in Australia in 2004 with just 30 Mo Bro's in Melbourn, Movember has truly become a global movement that is changing the face of men's health with 1.1 million mo bros in 2012! So, how it works is Mo Bros as they call them and Mo Sistas create a Mo fundraising Page on Movember.com, either as an individual or a team to start fundraising! Now, anyone can choose to go ahead and donate to a Movember page. We really hope that any or our own family, friends, acquaintences, customers, and random stranges choose to donate to Ron's Movember page! It would actually really mean a lot to us. Or, if you want a little proud Movember Moustache keepsake of your own and know that you helped support Ron's page, you can also purchase one of our many exclusive Movember items now available on our etsy shop, and soon on our website! We have been working hard since August, stocking up on all things moustache - from our famous leather baby and toddler bibs known as Mally Bibs, to our our ever popular leather change purses, travel accessories, bookmarks, art cards and more! Honestly, there's something for everyone! Given that it's the gift giving time of year, we have even created some amazing Movember Moustache gift sets! Whether you're looking for a gift for now or later, here's some gift giving ideas that you might want to grab a Mally Designs Movember Moustache item for:
Father's Day Gift
New Baby Gift
Toddler Birthday Gift
Chirstmas Gift
Hostess Gift
House Warming Gift
Congratulations Gift
Graduation Gift
Birthday Gift for Him
Birthday Gift for Her
Anniversary Gift 
Wedding Gift
Travel Gift
Kids Birthday Gift
Book Club Gift
New Job Gift
New Business Gift
Corporate Gift
Staff Gifts
Valentine's Gift
Mother's Day Gift
New Years Gift
Wedding Party Gifts
Bridesmaid Gift
Groomsman Gift
Thank You Gift
Just Because Gift
I Love You Gift
Okay, you get the idea - there's endless gift ideas for these! I mean, imagine the look on Grandma's face when she opens a gift of a leather bookmark with a moustache on it. The great thing is if she doesn't get it, it gives you a chance to explain it to her and teach more people about the greatness of Movember. Then maybe next year G-ma herself might become a Mo Sista or G-pa a Mo Bro! I tell you, this Mo thing is contageous, and what a great thing that is! 
Here's a sneak Peek of some of our Movember Moustache Leather Items available NOW on our Etsy shop and SOON on mallybibs.com!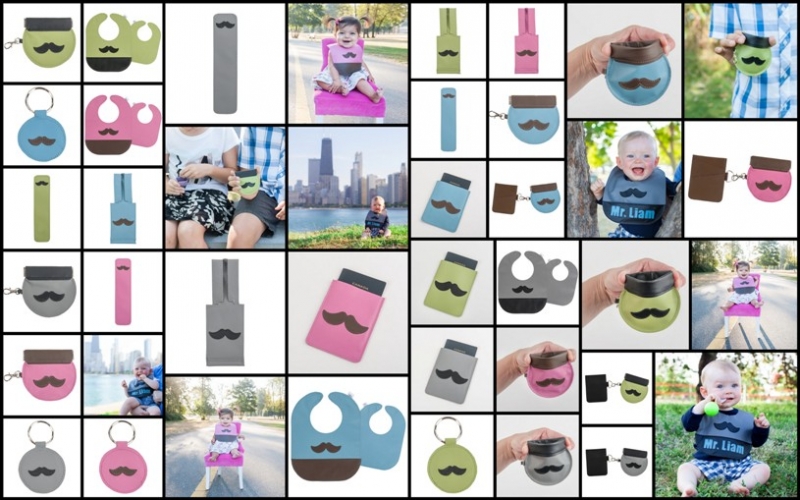 We have designed this exclusive Movember Moustache inspired line of leather goods in 4 gorgeous colors: bubblegum pink, lime green, bright blue and grey and they are available in ALL of our product categories. Now, you can start ordering these at any time and $1 from EVERY moustache item sold between now and the end of Movember will go to Ron's Movember fundraising! We will tally it up and add it to his funding page every Friday in November, and lastly on Saturday, November 30th. We are so excited, we hope you are excited, and we hope the mo bros behind Movember themselves are excited too.