Royal Baby to have one of our own Mally Bibs - and how YOU could win a matching one!
Submitted by
Nicole
on July 15, 2013 - 4:35pm
I truly do not believe luck exists, except for maybe the time when I was playing Texas Holdem (poker) on a family cruise we took last year when I got a Royal Flush (odds according to Wikipedia are 1:649,639). I think luck might have had something to do with that. But the kind of luck I don't believe in is when it comes to life and business, in which case I really don't think luck has anything to do with success. I've said it before and I'll say it again - I believe that if you combine an amazing product with a positive attitude and a whole lot of determination, good things will happen. They just WILL! It's a no brainer.
Now, speaking of Royal, one of those great things took place last week when we got a request to send one of our leather bibs to William and Kate, the Royal couple themselves, for the Royal Baby that is due any day now! We were so excited, and feeling a little panicked as we were not sure which design to send, we turned to our facebook page likers for support as we so often do! All I can say is that we were in awe at the responses. So many people offered such amazing advice. Our first thought was to send the crown or something Canadian, then so many people gave their input and we were so thankful, as we have come to the conclusion that we will choose 3 designs to send. Once we find out if they had a boy or a girl, we will reveal those designs and personalize them and send them off to the happy Royal family. Will and Kate are apparently very down to earth people and we want to make sure they are given something that many people would enjoy, so we will send them something popular - a top seller as the first design. The Duke and Duchess of Cambridge also love Canada, so the second design will be something Canadian - we think they would love it and nothing says we're prouder to have a Canadian made product than that! Lastly, for the third design we will send them one of our new designs which has yet to be revealed - believe me we have a few new designs in the works that we know they will absolutely love! 
Here's a shot of William and Kate in Calgary on their last visit to Canada, where they were 'White-hatted'. The White Hat Ceremony is a long-standing tradition in Calgary, a symbol of the Western hospitality and good cheer they like to share with visiting guests to their city.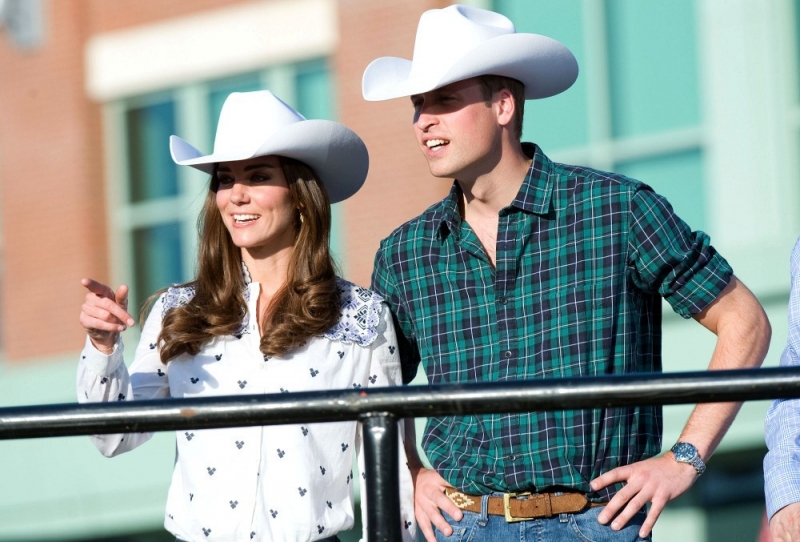 Photo Source: Bauer Griffin, July 7, 2011 from Zimbio.com
Now some people may be wondering how we got asked to do something of such great honour as sending our product to the future King and future Queen for their first born child?! Well, it turns out that one of the wonderful people at Children's Wish is also a big fan of Mally Bibs. They have connections with the Royal Couple from their last visit to Canada when they arranged for Kate to meet one of their children who had a wish, and they would like to gift them one of our bibs, on behalf of Children's Wish and Mally Designs. This amazing foundation has been granting wishes for children who are ill since 1987. They believe that each wish is as unique as the child who makes it. When William and Kate visited Canada last, Children's Wish granted a sweet little girl named Diamond her own wish to meet a real Princess. You may have got to watch this, as it was highly televised when little Diamond he got to meet Kate Middleton. My eyes water as I type this, because this is something that is truly amazing for this little girl to have experienced this in her lifetime and Kate was just so amazing with her, taking lots of time with her despite the windy weather. If you would like to read more about this little girl who stole Kate's heart, please click here.
Here's a shot of the precious moment when Diamond's wish came true and she got to meet Kate Middleton, a real Princess.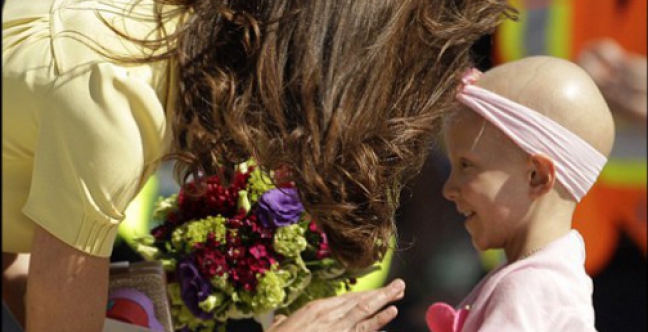 photo source: childrenswish.ca from Canadian Press
A Royal Baby Contest:
Now, let's all wipe the tears away together and think about something super fun! What I thought would be really exciting is if we ran a Royal baby contest, baby pool style! So go on over to our facebook page and be sure to like it if you haven't already. Then check out the status update at the very top of our page (which will remain at the top until the Royal baby's birth has taken place and the details are announced). Comment on that status update with 3 guesses: the birthdate, gender and weight of the baby. Whoever is closest will get to choose one of the bibs for themselves, that we send to William and Kate, personalized if you wish!
*The contest ends as soon as the official details are announced on people.com, our favorite celebrity source. If there is a tie, we will draw 1 winner from those who tied. If not all details are shared upon delivery, we will choose the closest with just the shared details. William and Kate have an expected due date around Mid-July and the Royal baby could make his or her appearance at any moment, so be sure to enter before it's too late! Just for fun, you can include a guess at the name as well!