Southwest Beef Sprouted Rice & Quinoa that my husband can't get enough of!
Submitted by
Nicole
on February 16, 2016 - 3:10pm
This is a pretty fast, super healthy, crazy easy recipe that my husband claims he could never get enough of. My kids loved it too and wanted seconds and thirds! Ron has been asking me when I will make it again, so tonight is the night! Since it's been on my mind, I thought I'd share it with you. If your taste buds are anything like ours, your whole family will absolutely love it!
RECIPE: Southwest Beef Quinoa with Cilantro and Sour Cream
Serves: 4
Prep / Cook Time: 45 minutes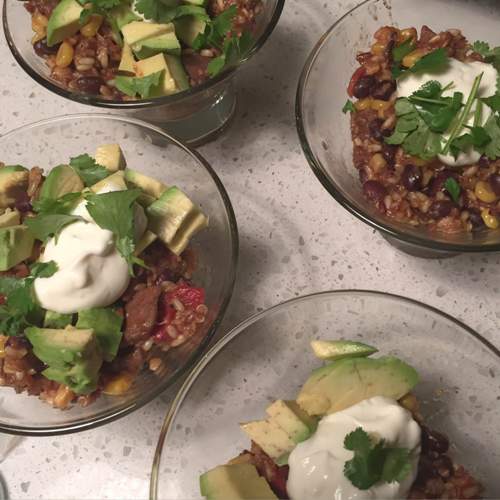 INGREDIENTS
1 cup TruRoots Sprouted Rice & Quinoa Blend
1.5 pounds of your preferred cut of steak, cut in bit size pieces (I used stewing beef here)
1 15 oz. can fire-roasted diced tomatoes
1 cup whole kernel corn, drained
1 15 oz. can black beans, drained and rinsed
1 cup of beef broth
1/2 tsp. cumin
2 tsp. chili powder
dash of cayenne (it's good for metabolism!)
dash of salt
dash of fresh ground pepper
1 tablesppon olive oil
2 garlic cloves
1 lime
1/2 cup chopped cilantro
1 avocado cut into cubes
1/2 cup sour cream
tortilla chips (optional)
*alternative protein: chicken breast or thighs, or shrimp
Season beef generously with salt and pepper and spritz with juice half a lime. Heat olive oil in a medium - large sauce pan and add beef and garlic. Cook on medium until fragrant and cooked. Add wild rice and quinoa mix, stir. Add 1 cup of beef broth, can of fire roasted tomatoes, corn and black beans. Add cumin and chili powder. Bring to a boil. Reduce heat, cover and simmer on low for 30 minutes, stirring occasionally. Simmer for an additional 5 minutes, uncovered if still watery. Serve in bowls. Offer your family any combination or all of these toppings: avocados, sour cream, lime juice, cilantro and tortilla chips. Enjoy!