The Story of our NEW Leather Placemats
Submitted by
Nicole
on August 16, 2013 - 11:54am
We had a vision quite some time ago to create something that we felt was a need on the market, much like when we had the idea for the first ever leather baby bibs, now famously known as Mally Bibs. This vision was for something just as practical, easy to clean, beautiful and unique as our bibs, but possibly even better as it was for something the entire family would use. We had this vision back in 2009 to create - you guessed it - leather placemats. We actually made up a few of these leather placemats and sent them to product testers to get some feedback along with a number of other items (change purses, passport holders, bookmarks, and card holders), all of which we added to our range. After getting the reviews back we opted to add all of the other items to our product line, but decided not to add the placemats. Why you ask? Well it certainly wasn't because the reviews were bad, quite the opposite actually! While our product testers were asked a number of questions regarding each item, the one answer that concerned us was the answer to the question: 'How much do you think these placemats should sell for?'. The average answer was $20 each. Well, considering our toddler bibs retail for $40, we knew selling something that used twice as much leather for half the price just wouldn't be possible. We listened and opted not to go forward with the leather placemats, much to our disappointment. 
Fast forward 4 years. We were torn, as we often thought about how amazing we knew our placemats would be and every time we got a request for them, we were kind of kicking ourselves, wishing we had them to offer. We have always ran our business based on pleasing customers, listinging to their requests and offering products of great design, quality and function - all things we knew our placemats would be, but we also had to price them at a price that wouldn't be a loss. That's just obvious business sense. After countless requests from customers wanting leather placemats, we thought we would give it a try. If nothing else, we knew we would have the very best placemats there are in our own home, something we were desperate to find - and let me tell you, we have gone through plastic placemats, bamboo placemats, mesh placemats, fabric placemats, cork placemats, woven placemats, all before making our own leather placemats. Really, we probably paid as much for placemats that don't last as we would have as in one time leather placemat purchase. Oh my gosh, I am not even kidding a tiny bit when I say that they have been the best placemats we have EVER had! Not only are they easy to clean, but we get so many compliments from guests as to how beautiful they look. I have no idea why we didn't make them sooner. We have been using them for a little over 1 month now and we're still in love with them. Hands down and by a long shot, these are the best placemats I have ever known.
Initially the first vision for our placemats was to make something really simple and just have them match our bibs. I mean really, how cute would it be to have a monkey or a bear centered on the placemat to go with a bib - cute right?! Then we had a brainstorming session and we really thought about what customers would want. Of course, it made no sense what so ever! Think about it, if you're spending $48 on a placemat that will last forever, you don't want your child to outgrow the design do you?! Also, if you love the look, style and function of a placemat, you're going to want it for the whole family, right?! Of course you are! Also, if this placemat is of such a great design, why would you want to cover it up with a plate? So our goal was to create something that would be wonderful for any age, be beautiful in sets and basically make your table top the envy of all your friends and family. After our initial design brainstorming session, we wrote out a number of goals:
to make them fully reversible with a solid color on one side for every day use, a design on the other for every day or for when guests are over / special occasions.
design in a way so that the designs would not be hidden once set with dishes and cutlery.
create designs that are appealing to both kids and adults, without being too child like.
offer them in fun, modern, colorful options, available individually for in sets of 4, 6, or 8 for a savings.
to give customers the option to customize the colors to match their own kitchen, dining room or patio decor.
to make the most practical, durable and long lasting placemats there are. 
I have to say most of all, these were so fun to design because I have been designing baby / kids items for so long now that it was fun to go back to something I have always had a passion for, interior design.  Besides the overall concept, I'll tell you a little bit about the thought process for the design on each of our placemats, along with their images and links to pucrchase below: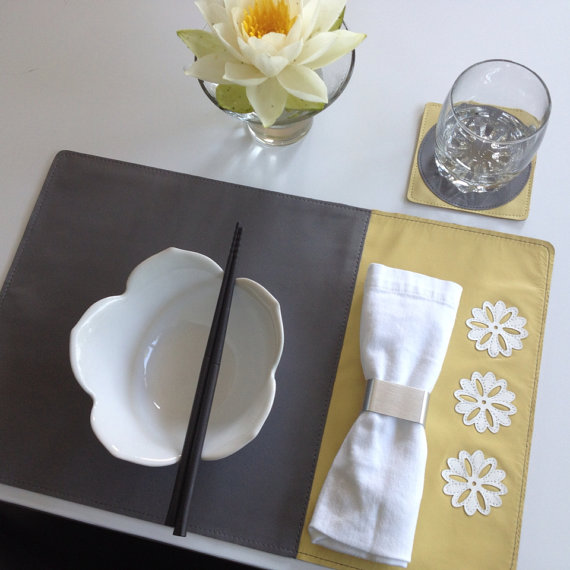 Design: 3 White Flowers
This one was designed with a popular color trend in mind, grey and yellow. This is actually the color combiatnion I secretly wish I had more of in my own home. Don't get me wrong, I love my home the way it is, but I'm sort of dying to remodel a room using grey and yellow. I'm thinking the kitchen would be the perfect place to do this. I love the 3 white flowers. Notice how even once set, all the design details are still showing? Yes, that was planned. The reverse is a solid grey.
CLICK HERE TO SEE MORE PHOTOS OR TO PURCHASE THIS DESIGN FROM OUR ETSY SHOP >
---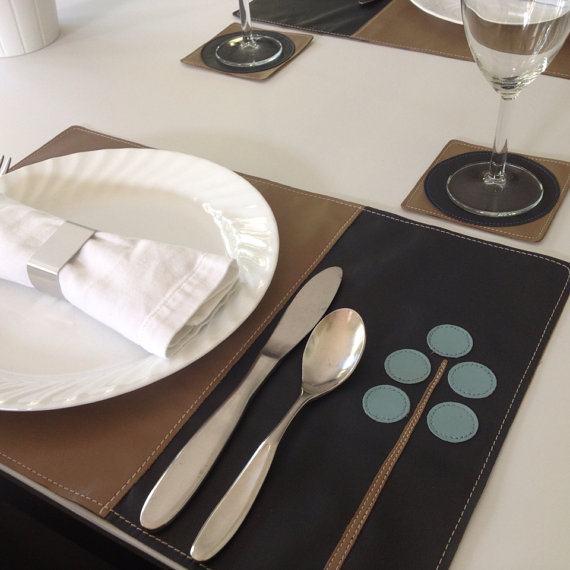 Modern Blue Tree:
This one was designed with our own kitchen in mind. We have bright white walls, dark chocolate brown cabinetry, modern white quartz countertops, a glass and stone linear blacksplash, light blue accents and modern decor. If these are not popular for everyone, that's okay. It's perfect in our kitchen. The reverse is a solid light brown.
CLICK HERE TO SEE MORE PHOTOS OR TO PURCHASE THIS DESIGN FROM OUR ETSY SHOP >
---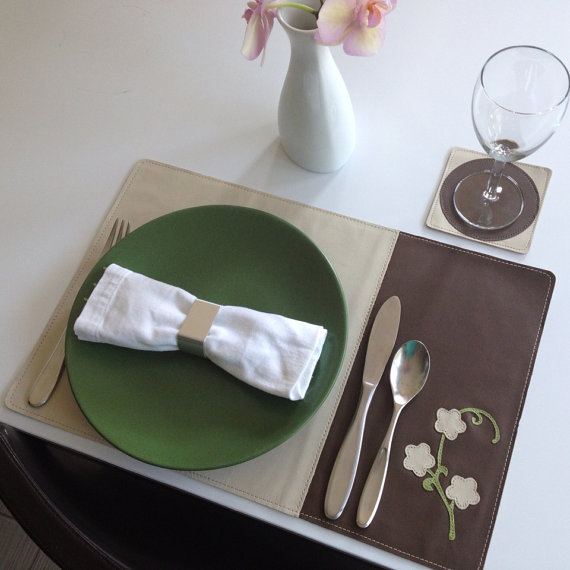 Lime & Beige Daisies:
This one has been the most popular so far, and it was designed with common kitchen colors in mind for more traditional or contry homes, but it can easily be modernized by customizing the colors. We have sold a few sets of this beauty and a few others have said they plan to purchase it. We have even customized this for two customers, switching the beige piece under the plate to a lime green for an extra punch of color. The reverse is a solid beige.
CLICK HERE TO SEE MORE PHOTOS OR TO PURCHASE THIS DESIGN FROM OUR ETSY SHOP >
---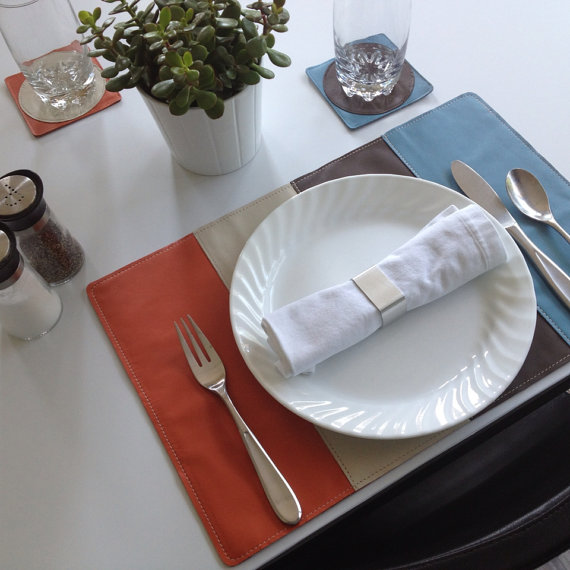 Stripes:
This one was designed with modern simplicity in mind. 4 bold stripes of orange, beige, brown and blue are on one side, with a lovely solid orange on the other. I personally love this one for a patio placemat. I just think the colors are lovely in Spring or Summer and with less detail it's very easy to clean, even if it gathers dirt and dust from the outdoors. (note: I wouldn't leave it outside though). The reverse is a solid orange.
CLICK HERE TO SEE MORE PHOTOS OR TO PURCHASE THIS DESIGN FROM OUR ETSY SHOP >
---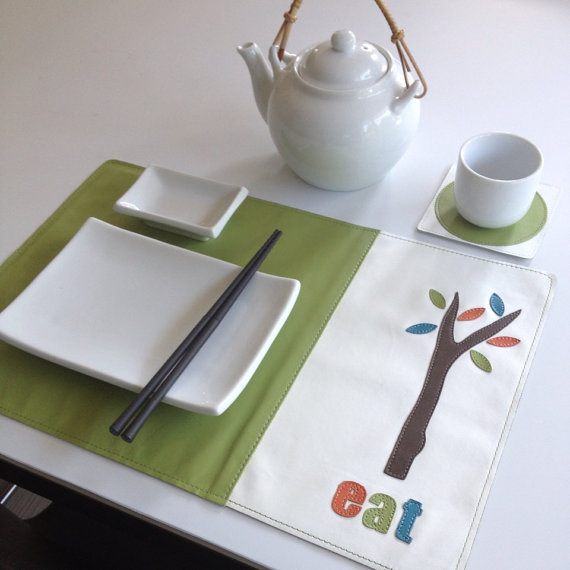 Fall 'Eat' Tree: 
I guess you could say that this one is a little more child like, perhaps a little juvenile compared to our others, but certainly completely suitable for any age. The bright colors and the word 'eat' are a a simple reminder not only to eat your meals, but to eat a healthy variety of colors in your diet. If that tree applique looks a little familiar to you, it's actuallly the branch we use for our bird and owl bibs. The reverse is a solid lime green.
CLICK HERE TO SEE MORE PHOTOS OR TO PURCHASE THIS DESIGN FROM OUR ETSY SHOP >
---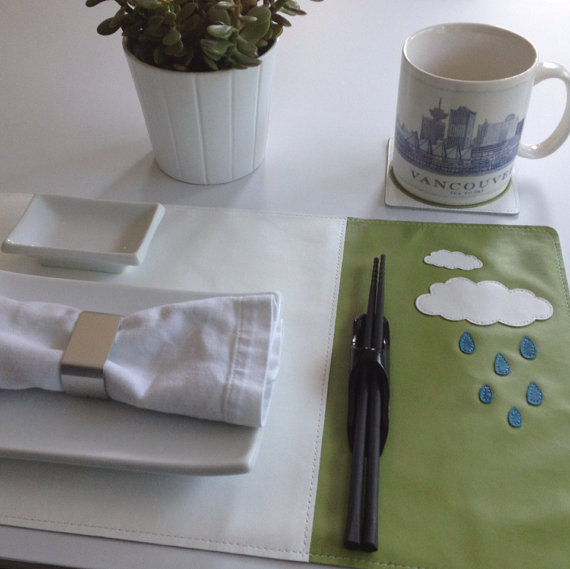 Clouds and Rain Drops
Being a Vancouver based (well, Mission) company, it seems fitting that we jump on this whole cloud trend that we keep seeing and add in some rain drops as well. Like the 'eat' tree, this design is perhaps a little more child like, but again it's completely suitable for all ages. We love it and perhaps some might think the design will rain on their parade, but we like to think it will brighten your rainy day. The reverse is a solid lime green.
CLICK HERE TO SEE MORE PHOTOS OR TO PURCHASE THIS DESIGN FROM OUR ETSY SHOP >
---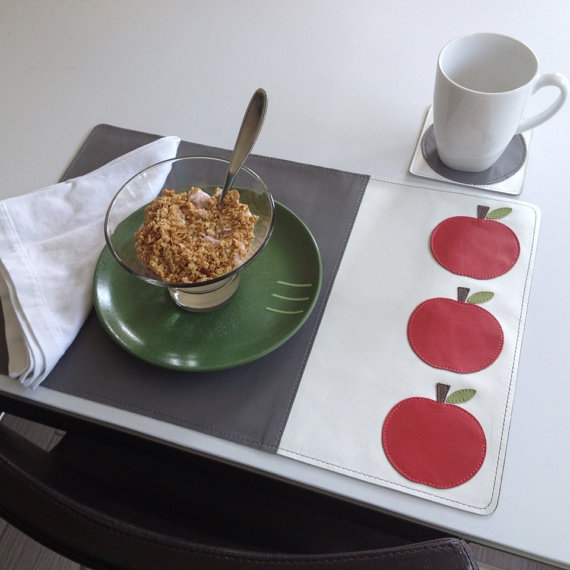 3 Apples:
You know what they say, an apple a day keeps the doctor away! Yes, apples and the health benefits of them were the inspiration for this design, as well as a color combination that I happen to be in love with. Red, grey, lime and white - there's just something refreshing about it. The reverse of this is a solid grey. 
CLICK HERE TO SEE MORE PHOTOS OR TO PURCHASE THIS DESIGN FROM OUR ETSY SHOP >
---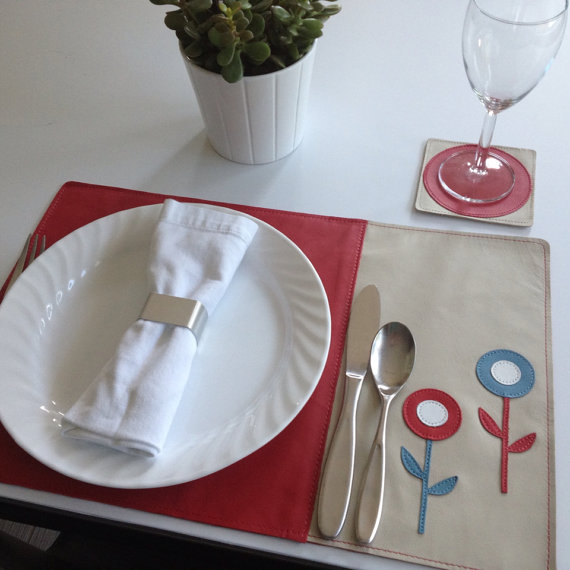 Blue and Red Flowers:
In sticking with a modern design theme, we wanted to design a less traditional flower - something bold, colorful and something that could look good in a variety of color combinations. After playing around with some simple flower designs, we knew this was it. We have already customized this one on in a red / brown /lime / orange color theme as well and it's absolutely gorgeous. Click here to see it on our facebook page.
CLICK HERE TO SEE MORE PHOTOS OR TO PURCHASE THIS DESIGN FROM OUR ETSY SHOP >
Be sure to order soon in order to ensure you have them in time for Thanksgiving, Christmas or your next family get together. To order our leather placemats or to see our entire collection of placemats and coordination leather coasters, please visit the leather placemats section of our etsy shop. If you wish to customize the colors, simply send us a private message though etsy where we will help you with the customization process. All of our placemats are available individually or in sets of 4, 6 or 8.