We will donate 20% of NEW design sales to Ruben's Shoes!! + why our new collection was 1 year overdue.
Submitted by
Nicole
on September 6, 2013 - 10:29am
PART 1: Ruben's Shoes - an organization we believe in:
I want to start off by saying that giving back really is a feel good thing and it's something we have plans to do a lot of. If you haven't tried it, do. You will not regret it. After having a hugely successful month with 20% of sales for our 4 Royal Bib designs going to Children's Wish, we decided to run a similar charity offer around another organization that we believe in. This time, 20% of sales for ALL OF OUR NEW designs - bibs, change purses, card holders, etc. will go to
 Ruben's shoes. At Ruben's Shoes they are on a mission to spread love through shoes. They collect gently used shoes for kids and adults in less developed countries who don't have any. We have been lucky enough to get to know the founder, Kelly, a girl with a very big heart. When she went on a trip to the Dominican she met her sponser child, Ruben. She couldn't believe the conditions for some of the people who live there. The thing that stood out most for her, was the lack of shoes. In our part of the world, we are used to having at least a few pairs of shoes each, most often the latest styles and greatest brands and highest comfort. In less developed countries, a child is lucky to have a pair at all. On top of that, the conditions of the ground are not something that anyone would want to walk on with bare feet. I shall stop there and focus on the postive. Kelly and a few friends started collecting shoes, and now they are packing up and sending an amazing 10,000 PAIRS OF SHOES NEXT WEEK TO THE DOMINICAN! Imagine how amazing these children will feel when their shoes arrive?! What's also amazing is that not only did Kelly have the idea to do this, but she followed through with it. Her friends and even complete strangers have been amazingly supportive too, which is so great to see. I have watched her updates on facebook and on instagram and to see someone working this hard, devoting time to help people that she hasn't even met in another country is inspirational beyond words. She is amazing.
On September 30th, at the end of their curent donation campaign, we will take 20% of sales collected from new design orders, and donate it all at once through the Ruben's Shoes fundrasing campaign online. The bonus is the one and only Michael Bublé, who was recently gifted Mally bibs at he and his lovely Wife Luisana's baby shower, will match all donations! You can also donate directly to the organization yourself if you wish to do so. 
To learn more about Kelly and Ruben's Shoes, please take 5 minutes to watch this video of Kelly explaining how it all started. Your kids might enjoy it too. :)
To be sure you're ordering something from us that is a Ruben's Shoes donation item, just look for anything with the word NEW in the product title and we will donate 20% of the sales of those items to Ruben's Shoes! It's really that easy, and we think it's a pretty good excuse to get yet another one of your favourite bibs or other Mally Designs items. It might even be a good enough excuse to do some early holiday shopping! :)
PART 2: The story behind our new designs and their delayed launch:
Since we started our business in 2005, we have launched new designs every year, around August / September. In early 2012 when we were getting set to plan our new collection, we had a great idea of running a design contest! This was exciting for us and our customers. Once we launched it we didn't know what to expect, and we were overwhelmed by the number of submissions. Over 150 hand drawn, computer generated and even hand crafted designs were sent to us as design contest entries. We were honoured that so many people took the time out of their busy lives to draw designs for Mally Bibs. Then came the task of choosing the winners - first of all we had to elimante any that would have copyright issues - olympic rings and an apple logo were among them. Then we had to remove any designs that we have already had, either currently or discontinued - a sheep, carrot and tennis racquets being examples. Then we took the really complex designs and opted those ones out - we can't do something that requires cutting 50 pieces of applique. As beautiful as some of those ones were, our seamstresses would run if they had to sew those ones, and realistically it wouldn't be worth it to sell something that took so long to make without increasing our price. Then we had a nice selection of a few dozen to choose from. From that there were several with multiple entries - we actually had 7 rainbow entries and 11 suit and tie type of designs. This made our job easier actually. We figured if such a high percentage of people thought those designs should be on our bibs, then chances are they would be popular additions! Choosing the designs was surprising easy, so much that we decided to choose 5 winners instead of the planned 1 or 2. Winners were announced, thrilled and eagerly anticipating the launch of their new designs. 
The next few months turned out to be crazy, sadly delaying our new collection launch. We ran our design contest in Spring 2012 with plans to launch in the Fall, but much to my dismay, things didn't go as planned. This was very difficult for me, as you could describe me as an extreme planner when it comes to business, especially on the design and marketing side. I have a schedule and I stick to it, so with a series of events delaying our new collection launch, I felt like a failure. Our loyal customers and amazing bib designers wanted to know what was taking so long and I was being emailed and messaged on facebook on a regular basis, making me feel really bad. What happened first was our die cutter manufacturer went out of business - so sad! This left us scrambling to find a new one, which is a more frustrating and time consuming job than one might think. We were unable to find one right away. Then we had our 5 week bizacation...it's very hard to find one when on the road in areas with no internet service while traveling with two kids and a dog. Then, upon our return to BC we found out we could move our business. This to us was such great news, but we had to switch focus to planning our move, a daunting task as you could imagine. Then we started building our new studio which was beyond exciting and a dream come true, but this became an obvious priority. Then it was holiday show season where we travel across the country again. Then it was time to temporily move our business home for a few months while we travel and build, and then move into our new studio. Then we had the huge job of organizing our new studio. All of this happened, by the way, during our busiest time of year. You see, everything else became a priority - travel, the move, orders, oh and kids. Yes, kids were a priority too. All while all of this was happening, we were making and shipping orders out like never before. Thinking back, I don't know how we did it! 
Thankfully that chaotic time in our lives is over and we look back and laugh at the circus that it was. Now we are in full gear, focused on growing our online business and spreading the word about our amazing products. We managed to finally find a fabulous new die cutter manufacturer in the new year and we finally got our beautiful new shapes made, photographed, and we just launched them online - HUGE relief, and only a year late! (haha) My biggest apology goes out to our designers, who I know were all eager to see their designs. I think a few might have started second guessing us and questioning our authenticity, which is super not cool to us, but we hope that our new collection with their designs was worth the wait! Here you go, our 5 NEW designs, and the original drawings that were sent from our designers. You will notice some modifications. Our actual designs are interpretations of the designers designs. Sometimes we have to do things a little different when working with leather applique. I hope all our designers are pleased with their end results! 
Here's our wonderful new design contest winning designs shown with the original drawings!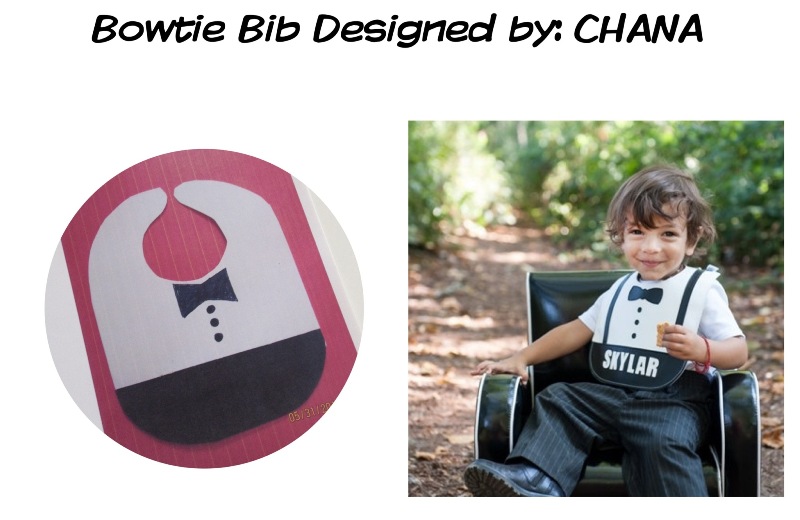 The only significant revision we made to this design, was the addition of the 'suspenders'. We just felt it need a little something else to finish it off.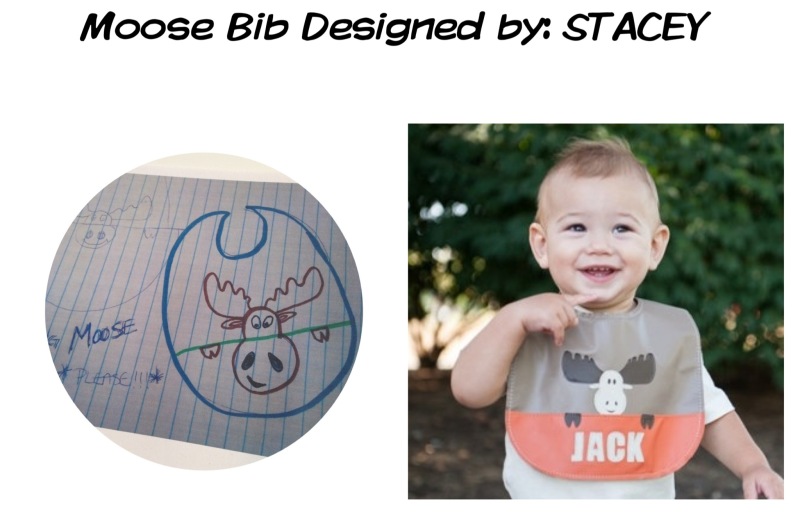 We thought this was a pretty good interpretation of the original drawing, just with the nose a little higher up on the bib and scaled to fit.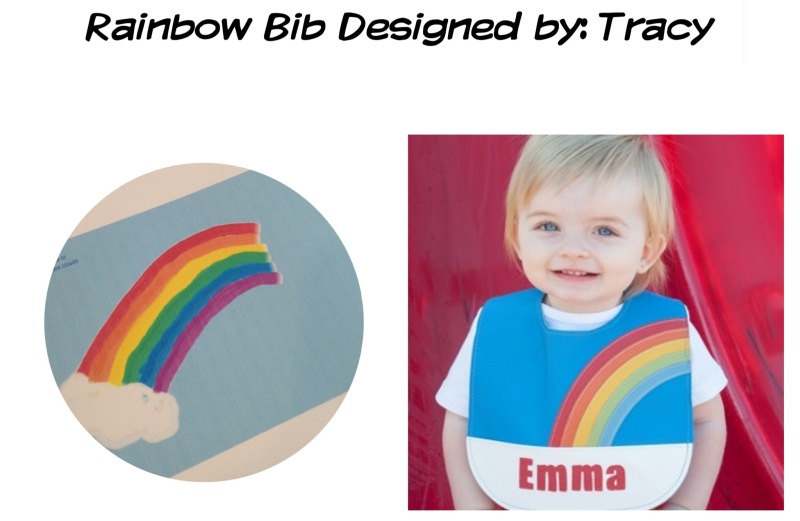 We actually had plans to design a rainbow bib at some point and this drawing gave us inspiration to make it an 'off the side of the bib' style.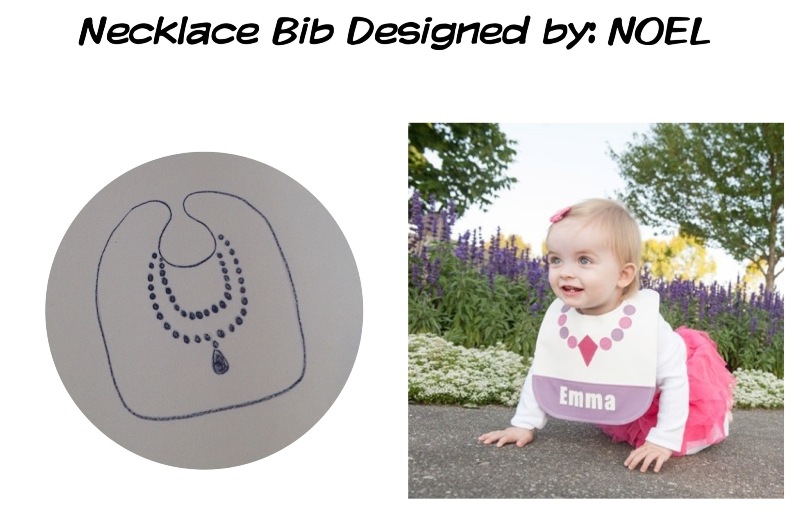 This was designed by an ex-coworker of mine. We modified it to have a pocket on front and less beads to simplify the production process.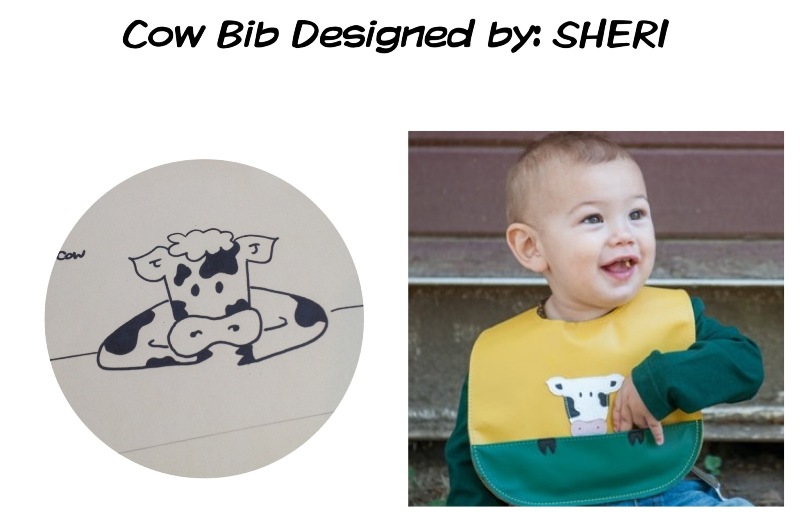 We just simplified the cow a bit and removed the hair on top. I personally liked the hair, but Ron thought it looked like a toupée on the bib version.
Thanks to our amazing BC photographer Ashley Martens, who did a wonderful job capturing our models in their new Mally Bibs. Stay tuned for some more fabulous photos from the talented Annie Steele of Chicago who has also been working on some photos of cuties in our bibs!