Why Mally Bibs you ask? Here is our list of 101 reasons why!
Submitted by
Nicole
on June 16, 2009 - 4:24pm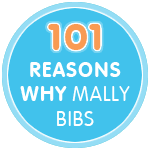 Often when someone sees our product for the first time, they have 'the look'...it's a strange look, one that is both confused and intrigued at the same time.  This look is usually followed by the question 'Leather for baby bibs? Why leather?'.  Then we explain with a few key reasons, and suddenly the confused look converts into an 'ahhhh, that makes perfect sense' type of look.  For all who have not seen our product and are trying to figure out why, we've narrowed it down to 101 factual and quirky reasons:
They are guaranteed not to stain. Really no joke. Yes, even spaghetti sauce, blueberries and carrots will come off.

Ease of cleaning – simply wipe or rinse! 
Amazing selection.

 

There is something for any style / personality.
Simply because it is the original leather baby bib. It's always nice to buy the original, isn't it?

It makes a unique and practical gift that they will remember.

Each bib proudly boasts handmade quality.

You can personalize the pocket with a name!


By personalizing, it will be obvious which bib is theirs at daycare.

Personalizing is also great for kids to start recognizing their name in text.

Because it's rare to find unique names on products elsewhere!

They magnetically stick to the fridge or metal surfaces for convenient storage.

They also make nice fridge décor (we have customers who choose their design(s) based on their kitchen color scheme!).

Older babies / toddlers enjoy putting these bibs on themselves.

Each bib includes a food-catch pocket on one side.

Besides catching food, the pocket it great for filling with snacks like cheerios to keep baby satisfied.

They are stitched with a heavy duty nylon thread that won't rot or stain.

They still look like new meal after meal.

Your friends will be jealous.

Your friends will be thrilled when you give them one as a gift.

You can customize the colors to make it even more unique!

Leather is a natural, biodegradable material.

You deserve to enjoy every moment with your baby and Mally Bibsl They make mealtime a little bit more enjoyable.

Each bib design is available in a matching art card, making them ideal for gift giving.

They are designed and made 100% in Canada!

Each design is kid approved by the designer's 7 year old girl and 9 year old boy before being added to the collection!

Ordering online is secure, convenient and easy at mallybibs.com
The neck adjusts to fit even tiny little necks and super chubby necks.

They are GREAT for travelling or eating out! Who wants to bring home a dirty, sticky bib? Just wipe it with a bab wipe and toss it in the diaper bag.

Each bib ordered online comes wrapped with tissue, sealed with a sticker, includes an informative hang tag with a personal message and a card.

They are baby safe – CPSIA approved!

They are comfortable for babies to wear.

The magnetic clasp won't tangle hair like ties often do.

The magnetic clasp won't irritate their neck like Velcro might.

They are available in 2 sizes (larger ones for bigger / extra messy babies).

Gift giving is made easy with our e-gift card option online.
Or, another option for easy gift giving: if gift cards are not your style, you really can't go wrong with gifting our #1 most popular design – the giraffe.

 

They are so durable they can be passed down to younger siblings, cousins or friends.

1st meal photos will be more special.
1st birthday photos will be more special.
If you have one, you can enter to win another one by submitting a photo and testimonial!  Submit your photo & testimonial entry to contests@mallybibs.com

Even if you don't win, you will have bragging rights that your child is a star on the mallybibs.com website.

They save time, water and electricity by having no more bib laundry.




For the parents of multiples, this saves double (or triple, quadruple, etc. the time).

Our sports bibs are great for wearing to cheer on a favorite team! (especially when customized with team colors!).

Because they are so much nicer than the bibs your mom put on you.

They will be the hit of the baby shower.

To make the fire fighter, police officer, paramedic, or pilot Mom, Dad, Grandma, or Grandpa proud.

Because your baby deserves the best.

There is an equal selection of designs popular for boys, girls & neutral. This, as most Moms to boys know, is extremely rare.

Our return policy is amazing – we stand behind our product.

They last a few years vs. a pair of shoes or an outfit that last a few months before out grown.

Because they are fun to coordinate with outfits.

We offer designs that are cool enough for bigger toddlers to wear.

Babies love to chew on them, making them great teethers.

Drool won't soak through to their clothes.

Drool won't run off the bib if the pocket side is facing out.

Since they are flat, they are easy to ship to far away friends & family.

They make great corporate gifts for employees who have babies - we even offer a discount for companies wanting to give as corporate gifts.

Fewer bibs will end up in the landfills!

You are supporting a small / family run business who cares about their employees and work / life balance.

Each bib goes through quality control every step in the manufacturing process.

Our leather supplier processes the leather in the most environmentally friendly method possible

Our vegetable bibs just might get toddlers excited about eating veggies!

We are an environmentally aware and responsible company.

They come in a beautiful array of colors that parents love and children get excited about.

Because thousands of people are already raving about them.

Celebrities love them!

It is an award winning product.

Because it's fun and exciting to try something different.

Because leather smells nice.

To show your patriotism with the maple leaf or stars & stripes bib!

They make a great baby keepsake item.

Chances are, none of your friends have the exact same one.

They dog or cat bibs are perfect for the dog or cat lover.

Babies and toddlers love the designs = more likely to want to wear it.

Even if you don't have babies, they make the visit memorable if you offer your guests with babies to use one.

When your child has outgrown it, the bib pocket can be used to store mail or notes when stuck to the fridge.

A smile will come across your face when elders say 'wow, a leather bib, when I had babies we just tied a t-towel around the babies neck!'

Because they are easy off, you can rest assured knowing that they will not choke or strangle your child.

The cowhide comes from cows that are raised for meat and if beautiful products were not made from their hides, they would be wasted.

They are ideal for the camping family / outdoor enthusiast since baby wipes work great for cleaning them.

Older siblings have fun custom designing a special one of a kind bib for new siblings through the custom bib studio.

Giving toddlers the choice to pick out their own bib will make them feel special, and they will enjoy wearing it more.

They make a great 1st birthday gift for the baby who has too many toys.

You won't have to worry about any more clothing getting ruined by Velcro bibs in the laundry!

It's fun to scare people by spilling spaghetti sauce on it, then surprising them by washing it off like magic.

If you own dozens of them (yes, some people do!) they could be used for recognition 'flashcards' for baby to learn names of the images.

Because you need a good reason NOT to have to use all the less attractive bibs that you were gifted by people who don't really know your style.

Because you only need 1.

Despite #89, getting a 2nd one for the diaper bag is handy. 

And of course, getting another one with a permanent home at grandma's & grandpa's house isn't a bad idea either.

They will free up your bib drawer to store something else.

They last A LOT longer than flowers making them a great new baby gift.

Because it just might inspire you to invent a product to make life as a parent to young children easier.

Your babysitter, nanny or daycare will thank you for making mealtime easier.

They make a great gift set to get for older toddler / new sibling with coordinating designs.

If you are on a budget, we do have a few discontinued designs on clearance from time to time.

The obvious – what bibs were invented for: to protect their clothes!

The lobster bib = the design is guaranteed to generate smiles and / or laughs.
Guitar bibs are perfect for the future rock stars or music enthusiasts.

It's a conversation piece – people will ask you why leather bibs, and you now have 101 reasons to tell them why!