Why we Run for Water - what WE get out of it
Submitted by
Nicole
on March 13, 2014 - 7:47pm
This year we will be running in our third Run for Water in Abbotsford BC, on May 25th, 2014. The Run for Water is a great event for the whole family. My Son has ran with us the past two years and my Daughter ran last year for the first time as well! Now, you may be wondering what the Run for Water is really all about? Do you get a nice big bottle of water at the end? Are there all kinds of drink stations during your running course where volunteers may be handing you little cups of H2O to replenish your dry palate? Or, are you actually running IN water, literally?! Well, I suppose all can be true, especially last year where all 3 applied as we ran in pouring rain, but no, what Run for Water really means, is we run to provide clean drinking water for people in Ethiopia. As you may know, Ethiopia is among the poorest countries in the world, which has also been prone to droughts for the past two decades, making clean drinking water extremely scarce. As a result, the lack of clean water has been a major contributing factor to food shortages and famines, as well as health complications, hygiene related health issues, and spreading of diseases in Ethiopia.
There are many reasons we choose to participate in the Run for Water as a family:
Do Good = Feel Good
It's a simple and proven fact - doing something good will make you feel good. On a regular basis, we talk to our kids about how fortunate we are to have luxuries like running water and how thankful we are to be able to shower, clean our bodies, wash our dishes and clothes, swim in our pool, flush our toilets, and DRINK knowing it's safe to do so! The sad thing is, not everyone is so fortunate. It's really just a stroke of luck that we were born into this part of the world. Since we are among the lucky ones, it's only fair that we do our part to help those less fortunate. Every year after the Run for Water, we feel even more gratitude as we discuss with our kids the changes we are helping to make.
Tradition / Memories
We are big on tradition at our house. There's certain things we do as a family that we know our kids will cherish as childhood memories and hopefully pass down as traditions in their own families one day. The Run for Water is one of them. It's an annual tradition now, and we wouldn't miss it for the world. We purposely book our Spring vacation around it and we start to get excited about it a few months before. I would say it's one of our favourite family traditions and I'm sure a memory they will have for life.
Some of our Run for Water memories from 2012 and 2013: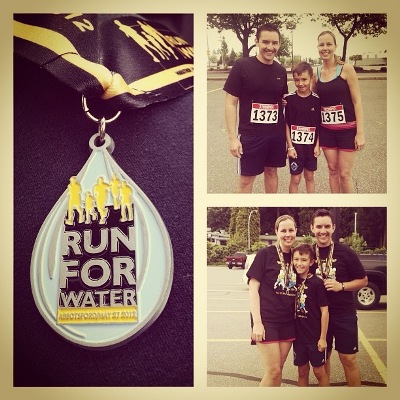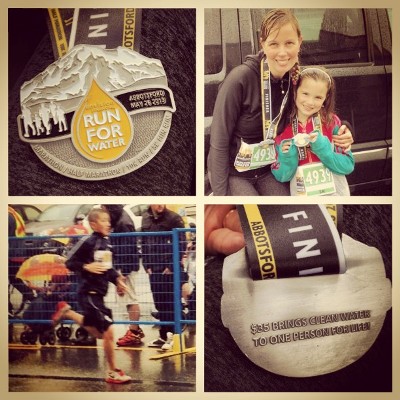 Setting an Example
I have always been a strong believer that kids will learn far more from watching what you do, than from hearing what you say. I have tested this theory and you can too. Next time you are in a public bathroom, sneakily start to leave after hitting the bathroom stall without washing your hands. Gross I know, but this is just a test. If your child is like mine was at a young age, he or she will also start to leave without washing his or her hands. Then of course go back and wash up, explaining the test! See, kids are watching your every move to figure out right from wrong, making it ever so important to set a good example. Being active, doing good, getting involved in community, setting goals - all things we associate with Run for Water, we feel, are good examples for our kids.
Experience Brings Confidence
For our first ever Run for Water, we were all nervous. The year was 2012, and just the 3 of us ran the 5K: Kyler, then 10 years old, myself (Nicole), and my Hubby (Ron). We didn't know what to expect, as it was our first ever chip timed run. Would we be able to do it? Would we get trampled on? Would we be embarrassingly out of shape compared to everyone else? All of these feelings of anxiety were pointless. It turned out to be really fun and we knew this was the beginning of something new for us to do as a family. Since then Kyler and I have run a few 10K's and personally I just run for fun and to get to the finish line. Knowing I can do it is enough for me but Kyler, on the other hand, is more of the competitive type, who constantly tries to increase speed to decrease his time. Last year he ran the 10K Run for Water in just 54 minutes - something to be proud of at just 11 years old! I had requested that they add a new age category because he was in the age 19 and under category and I see this year they did! Now he can compete in the 13 and under age group for the 10K race - exciting! Last year, Malia (9) joined us, and since she is more of an artist than an athlete, I was particularly impressed to see her run most of the race! She completed in 39 minutes and had the confidence to join the school cross country team after her run!
Reason to be Active
If you have trouble staying active and need a motivator, I highly suggest you sign up for a race, even a small one like a 5K fun run. There's something about knowing there's a scheduled race day that is paid for in your future to get your butt off the couch and onto the treadmill or pavement. I used to struggle with consistently hitting the gym or sticking to an exercise routine, but somehow it finally happened! Now exercise is something I look forward to and do on a regular basis. When I think about what triggered that change for me, I have to say at least a part of it must have been due to our first official run, the Run for Water. 
Small Rewards
Who doesn't like a little something out of a job well done? Our kids proudly wear their Run for Water shirts that were included in their past run race kits along with other little goodies and coupons, and they proudly display their medals in their rooms that are handed out to each participant at the finish line. Also, once we cross the finish line, we are congratulated with all kinds of treats besides water - bananas, fruit, bagels with peanut butter, granola bars, ice cream, and coffee and more from various sponsor tents. Some tents even have kids activities such as face painting, a climbing wall and bouncy castle, for example. It's a rewarding and fun day out for the family. There are also prizes for top runners in each category for the more elite runners! 
The Volunteers
While we run, there's countless volunteers (about 400) cheering us on, holding up signs of motivation, chanting, playing music, cheerleeding, and handing out those little cups of ice cold water. They tell us how much further we have to go and how awesome we are. Who doesn't like being told they are awesome?! This is what makes the race FUN! This is what keeps us running and looking forward to seeing what is around the corner until our feet cross the finish line.
Bragging Rights
With the power of social media driving so much of how we learn about upcoming events these days, you bet we shamelessly brag about our run on facebook, instagram, twitter and now my blog! Why not?! It's only maybe going to encourage others to do the same! My friends can pretty much count on it that I will promote the Run for Water before we even register, when we register, leading up to the race day, during and after the day of the event. Why? I'm proud that we do it, sure, but even more so because I hope to encourage and inspire other individuals, teams and families to do it as well! More runners = more $ for clean water for Ethiopia! Worth the brag post, in my opinion.
Here's some more Run for Water details and facts that you might find interesting: 
The marathon option is a Boston Marathon qualifier if you're more of an elite runner
Race options include a 5K fun run, 10K, half marathon, marathon and ultra marathon (56K!)
Race fees are listed here and they will increases as we get closer to the event date
Your chip timed race results will be posted on the Run for Water website to share with your friends!
The 5K is a fun run, and yes you are welcome to walk it if you prefer!
Run for Water is also in Calgary!
Last year together the Run for Water raised $358,000 for clean water in the Abbotsford race and $125,000 in the Calgary race!
$35 gives a person enough clean water for life!!! If this isn't reason enough to run or get involved, I don't know what is.
Lastly, here's a video that captures the 2013 Run - I'm particularly impressed with the enthusiasm of everyone from volunteers to families and individuals on such a rainy day! Check it out, and look at my own personal superstar Kyler starting his 10K race at the :30 mark and being featured running from :46 - :51 - proud Mom moment here! http://vimeo.com/67101575
Envision Financial Run for Water 2013 Race Day Video from Run for Water on Vimeo.