My late night addiction
Submitted by
Nicole
on May 6, 2014 - 7:49pm
I'll just get right to the point, it's the sauna. Simple as that. The way the dry heat feels on my skin, the scent of the cedar plank walls surrounding me, the sweat dripping off my body - I love it all. It was about 3 years ago that I started going to the sauna on a regular basis, sometimes to relax after a workout or yoga class and sometimes not. My body, mind and soul craves the sauna. I actually began challenging myself to stay in the heat as long as possible, sometimes to the point of getting dizzy. So, there you have it, my addiction is the sauna. I don't think it's a bad addiction. In fact, I think it's quite good for me. Many people for centuries in Northern Europe have enjoyed the sauna and many people even have them in their own homes to use on a daily basis. Funny enough, I can name a few people here in North America who have them in their homes, but sadly have turned them into a storage unit, pantry or closet - crazy in my opinion! ;)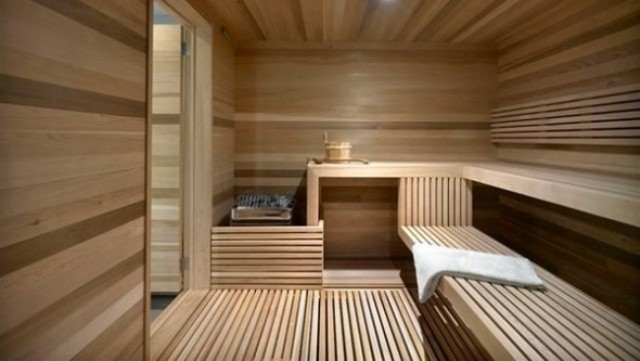 There are many facts, myths, and theories behind the benefits or negativities regarding the sauna, but this post is simply about me and how it makes me feel and what I believe. Here's why I do it: 
FOR RELAXATION?
Yes. Let's face it, between running a business and raising my now tweens, there's little time in the day for relaxation. I rarely even like to sit down in front of the TV or lay down to take a power nap because I know I may not want to get up. My mind gets little rest and while for me cooking, organizing or doing yoga is also something I find relaxing, it's still not true relaxation like the sauna. When I'm in the sauna, if there's room, I lay down, close my eyes and reflect on the day. I think about what I need to get done the next day, or simply think about nothing, or in winter I even pretend I'm on vacation and that the heat is the rays of the sun on my skin. All of this, for me, is therapeutic.
TO SOOTHE SORE MUSCLES?
Yes. After a good workout or a run, you can bet I'm going to hang out in the sauna that evening. I actually find it better than a hot tub for soothing my sore muscles or aches and pains. After running my first 10K race, I was surprised to find that the next day I wasn't even the slightest bit sore after an hour of off and on sauna time clocked that evening. 
FOR SOCIALIZATION?
Yes. There are many other people at our local recreation centre who seem to share my addiction. Sometimes I'm lucky enough to be one of the only people in the sauna and other times there's a few other regular sauna goers there. Either way is cool with me. Being around people that I have very little in common with and would otherwise probably never know or cross paths with, is something I actually enjoy. Yes, there's some talkers in there and that's okay too. It doesn't really take from the relaxation part of it, and when I really do just want relaxation, I just close my eyes. 
SWEATING?
Yes. I don't really know why, but I love to sweat, when it's appropriate to do so of course. Don't expect me to be all sweaty at my next tradeshow or networking meeting or sitting here in the office whilst I write a new blog post. That's not cool. In the mornings I work out and my goal is to break a good sweat and again in the evenings when I go to the sauna. For me, it feels like I am cleansing my skin and increasing my endurance. If just feels good, maybe because it flushes toxins from your body and unclogs my pores, and maybe not. Either way, it feels good, so I will keep doing it.
FOR WEIGHT LOSS?
No. This is not a reason why I love the sauna. Don't get me wrong, I'm like most every other 30-something year old woman, I'd love to lose a few pounds, but I actually do not believe that the sauna causes weight loss. You sweat, but then you drink so you just gain back any water weight you just lost. Some reports will say that the sauna will help you to lose weight, but I can say with great confidence that the sauna does not and will not cause you to lose weight unless you are in there for an insane amount of time, like around the clock. Sorry. 
TO SLEEP BETTER?
Yes. I have an ahhhh-mazing sleep through the night every time I hit the sauna in the evening. I think it has a lot to do with the fact that the sauna, for me, is a stress reliever. I don't lay awake tossing and turning, like I once did. At some point in my life I realized that stressing is nonsense. There's really no point what so ever in it and I do believe that the sauna helps promote better sleep. I know this because any time I have a little inking of stress keeping me up at night, which is very rare, it happens to be on a night that I didn't hit the sauna. 
TO PREVENT ILLNESS? 
Yes. I have not had a bad cold in 3 years, except once a few months ago. When did I get this cold, which turned into strep throat, you ask? When I was traveling in Toronto, where I didn't have a sauna to go to! Yes, there has been times when I felt a cold coming on. You know that first initial moment when you have that tickle in your throat and you know it's coming? Whenever I feel that, I know it's time to hit the sauna and stay in as long as possible. It goes away within a day or two, every time! 
FOR HYDROTHERAPY?
Yes. I don't just sit in the sauna. I generally sit in there from 10-30 minutes, then I jump in the cold pool and swim a few laps, then back in the sauna for another round, then back in the pool, etc. I go back and forth between hot and cold, which is something known as contrast hydrotherapy. It makes me feel revitalized and maybe it's good for circulation as well, as studies show. 
So there you have it. The sauna is my thing. You should try it sometime! :)