Submitted by
Nicole
on May 30, 2012 - 1:34pm
It's no secret, designing is the part of business I love the most. For me, it's passion, pure enjoyment, and sometimes even therapy. When a day is not going right and I need something to do to feel I had an accomplishing day, all I need is a sketch book, a pencil and a little design time and my day feels better. Throughout the year, while attending various retail shows across Canada and the United States, we gather design ideas given to us by customers. For example, one of our first bib collections in year 2 of business included our very popular Fire Truck bib, which is still a top seller today. That year, we heard from every Police family that we needed to design a Police Car bib, so in year 3 we did. Then, you guessed it, every Paramedic, Ambulance Driver and ER Doctor wanted to know why we had a Fire Truck bib and Police Car bib, but no Ambulance bib. In year 4 we added an Ambulance design. Seeing the look on our customers faces when the FINALLY find a baby related product with an Ambulance on it, for us, is priceless. It's hard to find, and for that reason alone our Ambulance is always a great seller when ever we sell in a metro area, as well as online. If we simply followed baby trends and didn't listen to our customers, our Ambulance design wouldn't exist and we wouldn't have made so many customers happy with this particular design. I could list many more examples of this, where our customers are the ones who inspired our designs. It's for that reason, that we thought a design contest would be great! We hear your requests, but we would love to SEE a design that you come up with! Who knows, we just might pick it to be a future Mally Bibs Design!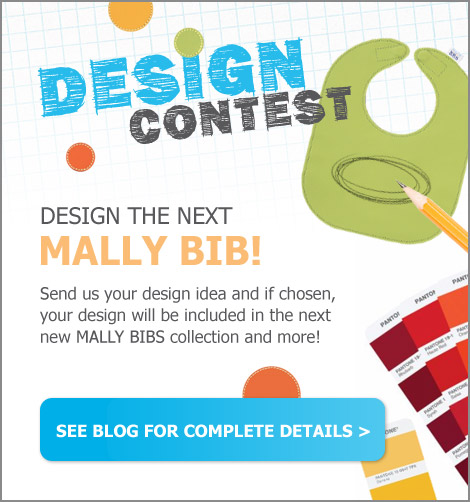 To enter our design contest:
simply draw your design(s) and send either a jpg of a design created using a computer program, or a hand drawn sketch to contests(at)mallybibs(dot)com.
entries may be in full color, or just a single color outline - it doesn't have to be fancy!
Please send as many entries as you wish, but only attach one design entry per email sent to our inbox
Contest ends June 30th, 2012
Winner(s) will be announced approximately the 2nd week of July, 2012
Tips to create a design we will more likely choose:
Design something that is simple enough to create in leather appliqué. If the design is too complicated (ie: too many parts, it will be difficult to work with)
Be sure to create a design that DOES NOT already exist as part of our current collection
If sending a full colour design, try to work with our color pallette options (or similar) to those available via our custom bib studo
If you win:
We will choose at least 1 lucky winner, who will get to have their design made as a part of our 2012-2013 collection... bragging rights!
If your design is chosen, you will get your choice of 5 personalized bibs in your design, to keep for yourself or to give as upcoming baby gifts, or a $200 E-gift certificate for mallybibs.com, which ever you prefer.
Depending on the amount of entries with designs we love, we may choose more than 1 winner, who will be awarded the same prize.
Please note, if chosen, we may need to revise the design slightly before we add it to our collection.
GOOD LUCK and HAVE FUN! :)
UPDATE: Oh my goodness! We had so many generous entries of beautiful and inspirational designs! We were overwhelmed by each and every entrants creativeness! We had about 160 entries, and I'll be first to say it was EXTREMELY difficult to choose the designs to use as our inspiration! We finally decided on 5 design entries to use as inspiration, with a few modifciations to suit our style and work with our medium. Congrats to Chana P., Chris D. / Sheri D., Noel L., Stacey B. and Tracy F. whose designs were ALL chosen as our inspirations to work with. We will keep the winning designs a secret until we launch in late August / early September, but all I can say is this will be our best new collection yet! I know, I keep saying that every year, but it's true! We just keep getting better, and this year especially it's thanks to our customers! ;)
I also wanted to note that we had several entries of variations of the same or similar designs. In some cases the winning design was one of these where there was several entries. If you designed something that became a part of our new collection, and you were not one of the winners, it's simply because we went with a design entry that worked best for our collection. In one case we had 9 entries of the same design, so we picked one as the winner, the one that will be most like our new bib. Hopefully this makes sense!
We will be sure to have more design contests in the future! This contest was a hit!