Submitted by
Nicole
on September 23, 2015 - 9:44am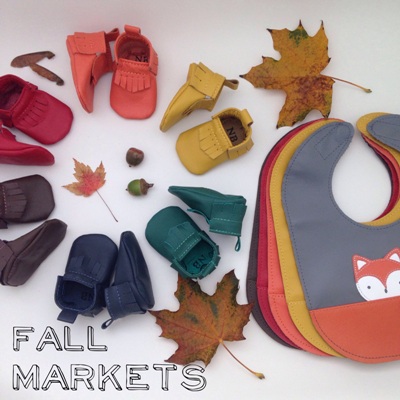 Wow, we had an amazing summer, both as a family and as a business! While I am sad to see it go as I write this on the first day of Autumn Equinox, I am also excited. There's something special about fall, and I always feel inspired to go shopping for new boots, sweaters and scarves and I crave cozying up with a cup of tea after a long walk stepping on crunching leaves. The air is crisp and at this moment the sun is shining, and creative ideas are flowing. Maybe it's ingrained in us from the time we were kids, but it's also a time for new beginnings and fresh starts. All of this makes it easier to say 'see you next year' to summer.
For us, it also means we are on the verge of our busy season. We look forward to it every year, and this year is no different! A few weeks ago, we started production in our home studio for all of the amazing shows and markets that we do, and we will continue producing our handmade items until it's time to start travelling.
Here's our 2015 fall show line up:
Etsy Made in Canada Market, September 26th, Sandhill Winery, Kelowna, BC
Whistler Farmer's Market, September 27th, Whistler, BC
Whistler Farmer's Market, October 4th, Whistler, BC
Whistler Farmer's Market, October 10th, Whistler, BC
Whistler Farmer's Market, October 11th, Whistler, BC
Studio Fair, October 30th - November 1st, Prince George, BC
Circle Craft, November 11th - 15th, Vancouver, BC
Art Market, November 19th - 22nd, Calgary, AB
One of a Kind Christmas Show, November 26th - December 6th, Toronto, ON
Got Craft, December 12th - 13th, North Vancouver, BC
NOTE: For advance discounted tickets to the One of a Kind Show in Toronto, purhcase through our discount link here
For complete details including locations and hours, please visit our events page here. That's 30 days of market selling upon us, all while our online shop is doing 2-3 times the business we do other months of the year. It's part of the challenge that goes along with having such a gifty product - and we absolutely love it! We can't wait to see all of our amazing regular customers, and many new ones this year. I don't know how many more years we will be doing all these wonderful holiday shows, but for now, we love it. Be sure to follow us on Facebook and Instagram for the chance to win tickets to these various shows! Also, now is  a great time to subscribe to Mally Mail for reminders and promotions - just head to the Mally Designs homepage for that. We hope to see you at one or more of our fall markets!